With diminishing diamond production in the aging mines globally on one hand and ever-increasing demand world-wide on the other, the industry would struggle to keep pace during 2013 with growing consumption in emerging economies like India and China.
World's biggest diamond producing company De Beers has recently indicated this due to a sharp decline in its rough production during 2012 which was the lowest since 2009.The Company slashed its output by 50% cent because of the global financial instability. De Beers, owned by Anglo American, has further forecast that it would produce about 27 million carats this year, a 14% less than 2011. "The supply is going to be constrained during 2013 so we have an opportunity for further price growth this year," CEO of De Beers, Philippe Mellier has said.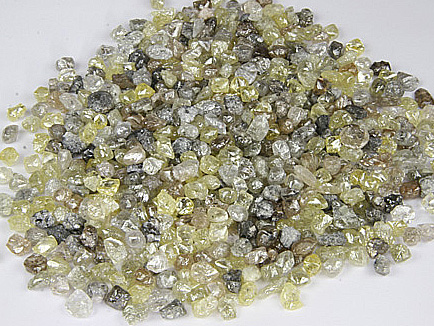 Less supply, higher demand, what does that mean?
According to a report titled 'The Global Diamond Industry: Portrait of Growth' from Bain & Company, rough diamonds had reached to record prices in the summer of 2011, but since then the prices have slipped back to 2010 levels on worldwide macroeconomic worries. However, present prices are still higher than the historic levels reached in summer of 2008, and now new rough supply is estimated to fall short of new demand during the next two decades, that could push prices to new highs.
The global diamond production had increased by 26% to $14.41 billion in 2011 as rough diamond prices soared during the same year, Kimberley Process (KP) data shows. Production fell by 3% to 123.99 million carats in 2011 by volume. The average price of production rose by 31% to $116.19 per carat. However, the year 2012 shows a different picture altogether. The global rough diamond production is expected to fall below 120 million carats (estimated data) following the diminishing production in global mines.
According to the Bain and Co. report, the global diamond demand is expected to go up by 5.9% annually through 2020, while the rough supply is expected to increase only at 2.7% over the same period. Even with annual supply growth of 2.7% through 2020, the supply of rough diamonds in 2020, estimated to be 157 million carats, will still not be equal to pre-financial crisis supply of 177 million carats which were produced in 2005.
Two of the biggest diamond mines in the world (one of them being Canada's Ekati and the other Diavik) have exhausted open pit resources and now they are both underground mines. BHP Billiton declared a 39% drop in diamond production at Ekati diamond mine to 295,000 carats in the quarter that ended on December 31, 2012 as compared to 481,000 carats of diamonds extracted for the same period a year ago. Ekati production was lower than all comparable periods, according to the Company's latest financial statement. At the same time, Diavik's production is estimated to go down by 17% YOY in 2013. Apart from these, Russia's Udachny mine is on its way to be converted into an underground operation in the next two to four years and Botswana's Jwaneng and Orapa mines are also expected to go underground shortly.
Industry sources say that growing Indian and Chinese demand will help bolster diamond prices in 2013 as
miners
are struggling to keep pace with growing consumption. Chinese and Indian demand accounted for about 20% of global diamond demand this year and that this share is estimated to rise by 28% in 2016 as the diamond market would grow from $23 billion to $31 billion, according to an Anglo American presentation last month.
Source:
http://www.jewellerynetasia.com/en/Blog/273/Diamond_Miners_Struggle_to_Keep_Pace_with_Growing_Demand.html?user=8