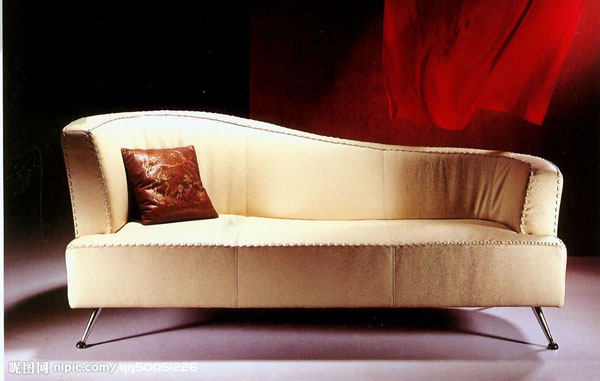 Upholstered sofas are an essential seating element in most home living spaces. They are also one of the most expensive furniture purchases, so selection requires careful assessment to determine quality and value. Determine who will use the piece, an active family or sedate empty nesters. No matter the price, all sofas are complex constructions of a variety of components. The frame, joints, coils, filling and fabric all contribute to the quality and value of an upholstered sofa.
Frames
To prevent creaking and provide strength, the frame should be constructed from a kiln-dried hardwood such as birch. Green wood is unstable and may crack or shrink as it dries. Pine is a soft wood and is less desirable for frame construction. The joints of the frame should be stapled and glued. Joints that are stapled only are not strong enough, and nails are not satisfactory to secure the wood.
Coils
Webbing or coil cushion support is key to a sofa's comfort and durability. Webbing is the least expensive support for sofa cushions. Flat fabric webbing is stretched across the seat frame to support the loose cushions. Flat or sinuous coils stretched across the seat frame provide more support than webbing and are noticeably bouncy to sit on. However, depending on the gauge of the wire, they may sag over time. Single cone coils cannot be tied, so they may bend and lose their bounce when a heavy person sits down. The most high-quality coil construction consists of eight-way, hand-tied, double-cone coils. This construction requires a craftsman to tie the adjacent hourglass-shaped coils to each other and to the supporting frame, creating a sturdy twine and heavy-gauge wire web of support that will last through the life of the sofa.
Cushion Filling
Before applying fabric to the frame and springs, these surfaces are padded with cotton or polydacron to ensure that no fabric touches the wood or wire and causes untimely wear. Many seat and back cushion filling options are available, including synthetics, natural feathers and down, alone or in combination. High-density foam-wrapped with Dacron is the most common and least expensive cushion treatment. Spring down cushions are constructed with coil springs surrounded by foam and wrapped in Dacron. The whole construction inserts into a muslin bag with blendown-filled (a blend of down and feathers) channels. The softest cushion option uses blendown wrapped around a foam core and slipped into a muslin bag, which provides ultimate softness but requires fluffing to regain shape. Back cushions are usually shaped from Dacron fibers, with the occasional addition of blendown encased in muslin to retain the intended shape. In general, softer-shaped, less resilient loose cushions are a sign of higher quality.
Upholstery Fabric
Fabric seams in quality upholstery are straight with no seam marks. Fabric patterns are centered on the cushions and matched across the facing surfaces both horizontally and vertically. The decking fabric (unseen beneath the cushions) may be of a different fabric or of muslin in less expensive construction or of the same fabric in the most expensive construction. Tightly-woven fabrics are more durable, so check the number of threads per square inch. Woven patterns wear better than screen prints. Both natural and synthetic fabrics are common for upholstery. Linen and cotton are very durable but sensitive to direct sunlight. Wool is durable and naturally stain resistant. Silk is elegant but fragile and difficult to clean. Petroleum-based synthetics are often blended with these natural fibers to achieve the best fabric qualities of colorfastness, softness, durability, mildew resistance and easy care for upholstered furniture.