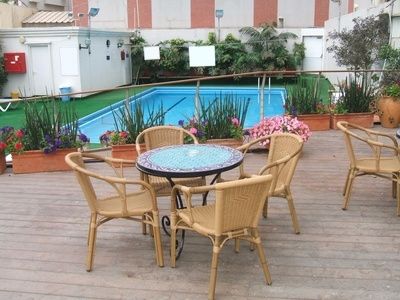 Wood
Outdoor furniture is available in many types of woods. Some of the most popular woods used for outdoor furniture are jarrah, kwila, pine, redwood, roble, teak and white cedar. Each type possesses varying degrees of natural durability and resistance to outdoor elements, but most wood types require maintenance to ensure a long lifespan. Weather proof sealers, oils and stains are recommended. Pine is ideal for anyone wanting to paint their outdoor furniture a specific color, while teak is popular for its natural resistance to rot and decay.
Metal
The different types of outdoor furniture comprised of metal include aluminum, stainless steel and wrought iron. Aluminum is lightweight and will not rust; however, it is less aesthetically appealing than some other outdoor furniture types. Stainless steal is sturdier than aluminum, but despite its name, stainless steel requires regular maintenance to prevent rust that forms when contaminates oxidize on the surface. Wrought iron furniture presents a luxurious look while also providing durable and sturdy furnishings. Wrought iron is available in many styles and requires very little upkeep. It is also heavier than most furniture types, making it a suitable option for windier environments.
Plastic
Of course, there are many styles and varying levels of quality when it comes to plastic outdoor furniture. It is often the least expensive option, as well as being the easiest to clean and maintain. Plastic furniture is also available in different colors and molds to suit an array of design styles.
Wicker
Synthetic wicker or rattan furniture is perfect for tropical themed outdoor environments. Wicker furniture created for outdoor use is typically treated with sealant suitable for exposure to outdoor elements, but this may need to be reapplied over time. When shopping for wicker furniture, remember that a tighter weave is usually indicative of good quality. Typically, the wicker frame is used to hold cushions and pillows covered in textiles specifically treated for outdoor use. Simply changing the cushions or pillows is an easy way to give your outdoor space a quick makeover.
Source:
http://www.ehow.com/list_6302203_different-types-outdoor-furniture.html