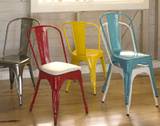 The Tolix Cafe Chair Story:
This famous cafe chair was designed by Xavier Pauchard for Tolix. Tolix manufactures and distributes its own furniture line to this day, and the cafe chair or Chaise A as it is known, is still in production.
As an uncorroborated story has it, the chair was used in the weather forecasting room on a battleship and later supplied to bars by breweries in exchange for selling their beer. While this arrangement between bars and breweries ended in the 1970s, the demand for these chairs and stools didn't stop and they were reissued in 1986 because fans were looking high and low for authentic Tolix chairs.
What Makes the Tolix Chair Special:
While the story makes for interesting reading, I can't vouch for its veracity.However interest in this chair continues because of several features:
The chair is made of galvanized sheet metal.
It has rubber feet, so it doesn't harm the surface it is placed upon.
It is light and can be stacked 8-10 chairs high.
Can be used outdoors or indoors.
Available in a variety of colors.
Dimensions: 18"W x 18.5"D x 33.5"H, Seat: 17.5"H, Back Rest: 17.5"W x 16"H Maximum Weight Capacity: 300 pounds
Caution: When using outdoors, wipe after rain and don't let liquids stand on it too long, as the finish may be spoiled.
Where to Buy the Tolix Chair:
The Tolix chair can be bought from several different sources such as Design within Reach, and Conran. Prices range from around $225 - $280 USD.
Source:
http://furniture.about.com/od/furniturebytheroom/p/to52009ix.htm