Folding chairs made of wood are mainly known for their inherent color shades that can blend well with many home themes. As their name implies, wood folding chairs are simply those that are made of wood. Their looks are primarily dependent on the type of wood or lumber used in their structural frames. However, just like any wood, they can be susceptible to the elements thereby diminishing the elegance of their finish. In some cases, they are even susceptible to burrowing insects especially when they are placed outdoors. Furthermore, they can be prone to scratches which may look unpleasant or they may also be susceptible to dents resulting from the impact of blunt objects. Overall, they may look elegant and durable but they can be susceptible to damage with respect to their finish and overall appearance. To make it withstand the harsh effects of nature and in order to maintain their aesthetic looks, manufacturers often use treated wood or lumber in the construction of a wood folding chair.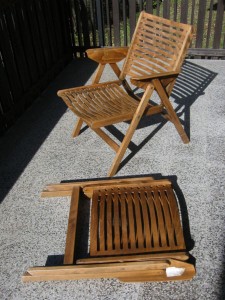 Wooden folding chairs are mostly preferred in settings where aesthetic themes and seating arrangements are setup. These may be in some churches where antique-type themes are prevalent, some fine-dining restaurants where ambience is mostly themed for natural elegance, hotel lobbies where furniture settings are neatly done , executive offices, executive lounges, specialty banquets, and in many other occasions and events where natural elegance are being portrayed. In some homes, these wooden chairs can blend well with a variety of accent chairs and leather tub chairs which creates a wholesome retro-like living room setting. More often than not, they are widely used indoors where they are safe from the elements rather than outdoors where they may likely get exposed to water which can deteriorate the quality of their finish. In terms of weight, this is where they tend to have some sort of disadvantage because they are heavier than the popular plastic chairs. But they still have a great advantage over the standard fixed chairs in terms of portability.
A wooden folding chair can be available in a wide variety of color shade and design and are mostly in display in furniture showrooms. The kind of coating being applied are mostly transparent in order not to hide the natural color shade of the wood. High quality lacquer varnish tend to bring the best results. Its different color shades and patterns are largely dependent on the type of wood being used. They can be made out of oak, teak, mahogany, and of many other strong lumber.

Not all kinds of wood are equal in quality, hence, the prices of wood folding chairs can vary depending on the type of wood being used. Those made of hard wood tend to be more expensive and are usually used in a big number of styles of folding retro chairs. Normally, preference for this type of chair is commonly associated with an interior or outdoor setting design where natural elegance is desired by the decorator or by the house owner.
Source:
http://foldingchairstation.com/wood-folding-chairs/