Who doesn't love to bring natural finishes of the sun-kissed desert and southwest vibe into their bedroom? Rustic bedrooms are all about sun-washed colors, desert colors, muted tones of sand and wood than cowboys and Western movies.
Depending on your gender or preference, there will always be varied rustic bedroom ideas that will help you to create any type of masculine or feminine style you want. Ranging from bed linen to lighting fixtures and decorative wall accents, you will be amazed by what you can do to transform the look of the interiors of your bedroom. Listed below are some ideas that will help you in decorating your bedroom the rustic way.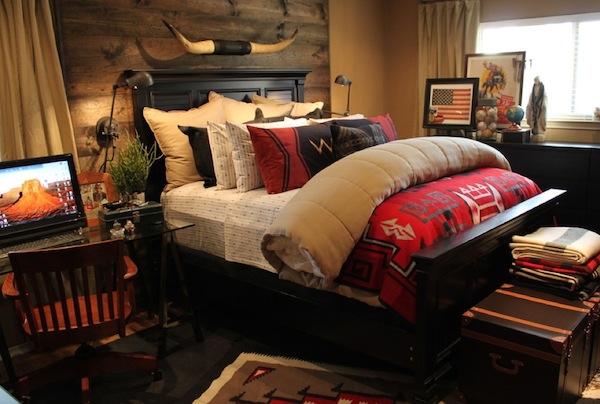 Create a rustic bedroom with natural colors
Image via: The Cavender Diary – via
Choosing Colors and Bed Linen:
With the muted tones of sand in the interiors of this bedroom and the bedcover, it is all about masculinity. Adding a bull's horns speak more volume than words. At first glance, it is nothing less than a pure rustic room with every other furniture blending with the color scheme. Stick more with browns, grays and greens.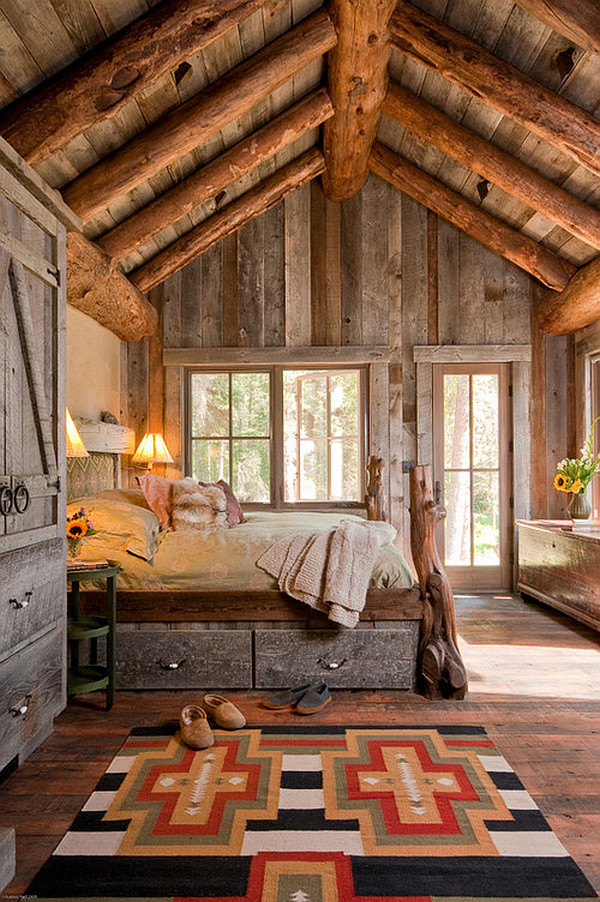 Attic rustic bedroom with beautiful bed linens
by Highline Partners
Adding too much bright color will overshadow the rustic detail while on the other hand, when you opt for richer and deeper colors as mentioned above, they accent the furniture and the color palette. For your bed, you should go for something that is made of log or any other type of hard and heavy wood. Covering the bed with rustic-themed quilts is a smart step in the right direction.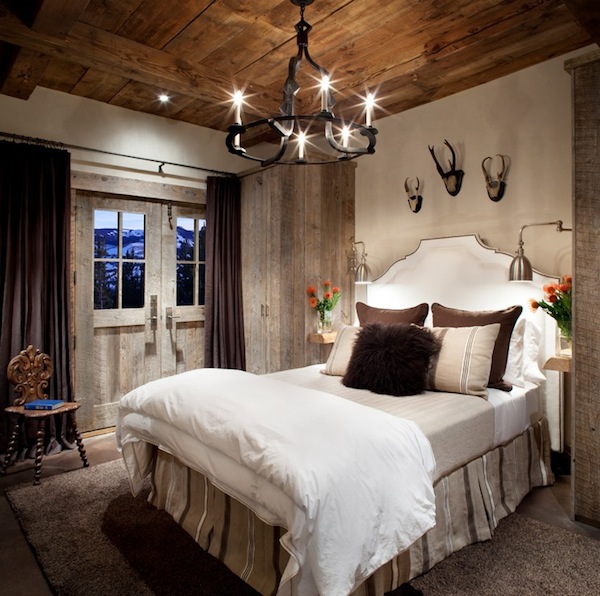 Rustic inspired finishes and details
Image via: Peace Design – via
Rustic Lighting Fixtures:
You may not know this but the lighting in your bedroom can has a lot of effect on your mood. There is no way a fluorescent lighting would look the same as soft and yellow-tone lighting. Out there at the hardware stores, you can find lighting fixtures designed as tree bark or deer antlers.
With the yellow-tone lighting system, you will be able to bring out the richness of the colors and décor pieces used in decorating the room.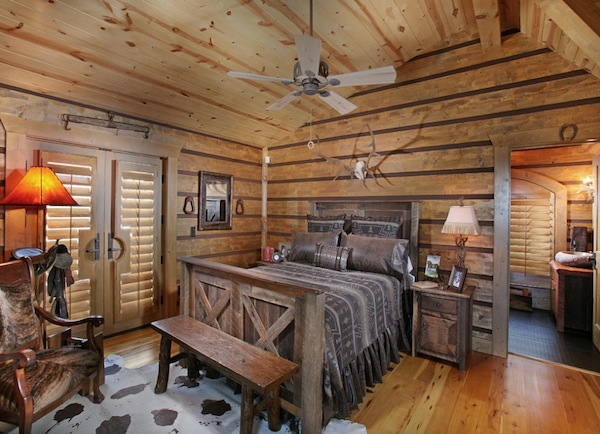 Choose a rustic design style you love for your home
Image via: Modern Rustic Homes – via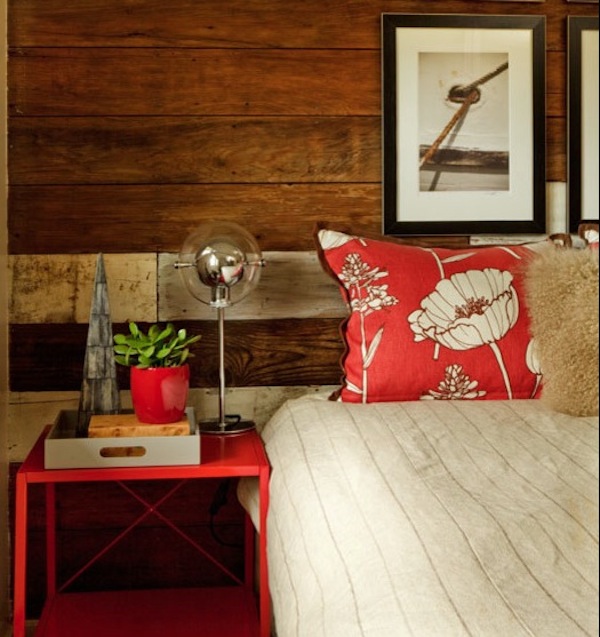 Weathered wall panels create a rustic backdrop
Image: Garrison Hullinger - via
Nature Inspired Furniture:
There are various styles of furniture that are categorized as rustic. There are beds made of unadorned tree branches while others come with white-washed frames and headboards. Also not left out are the white-washed dressers and simply carved chairs that are hand-painted in order to bring out the grains of the wood. It helps in giving a sort of 'weathered' look to the rustic bedroom. As for accent textures for the bed, crisp linen, wool and smooth cotton will do all the tricks.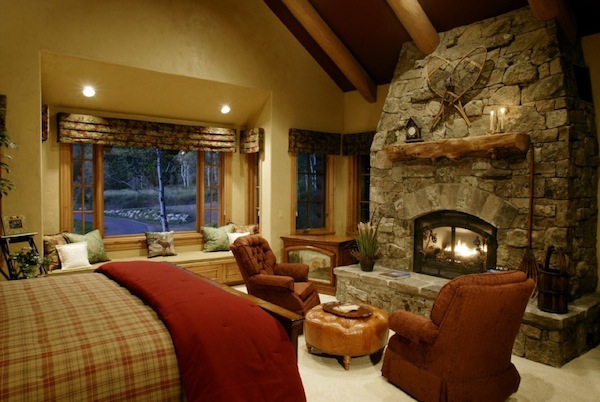 Nothing inspires a rustic bedroom like a great fire place and decor
Image: Paddle Creek – via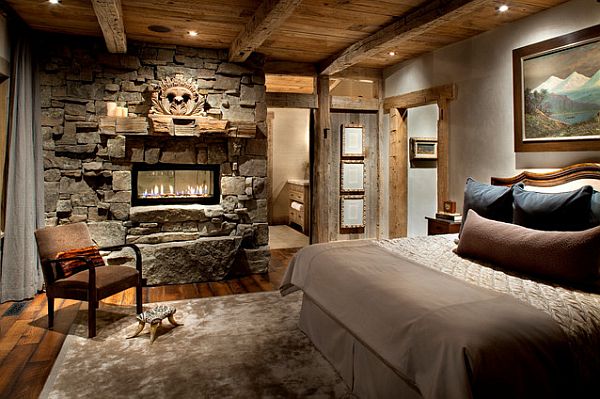 Modern rustic bedroom design with stone wall and fireplace
by Peace Design Rustic Art Pieces:
The artwork you choose to hang in your rustic bedroom should be such that reflects the nature of the room. Mostly, the artworks should come in unpainted but well-carved wood frames, although they can be slightly stained to have that rustic look. The choice of your rustic art pieces should mostly be paintings of animals like deer or pieces depicting farms and forest.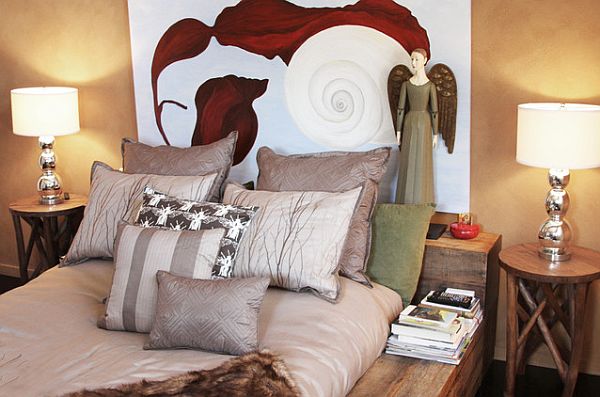 Rustic bedroom with reclaimed wood bed and artistic painting
by m.a.p. interiors inc. / Sylvia Beez
Rustic bedroom decor has always been a sure way of bringing in warmth and comfort into your bedroom. It does not matter whether you leave in the rural area or in the city, you can always have a rustic bedroom if that is what you desire. With the above inspiring rustic bedroom ideas to decorate with style, you can create a bedroom that you love to retreat to daily.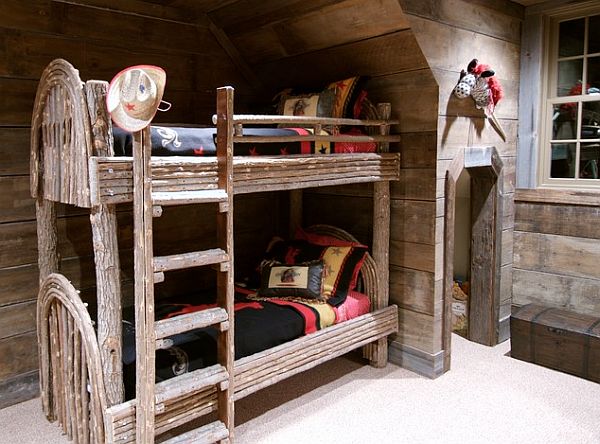 Rustic bedroom with bunk beds
by Jean Macrea Interiors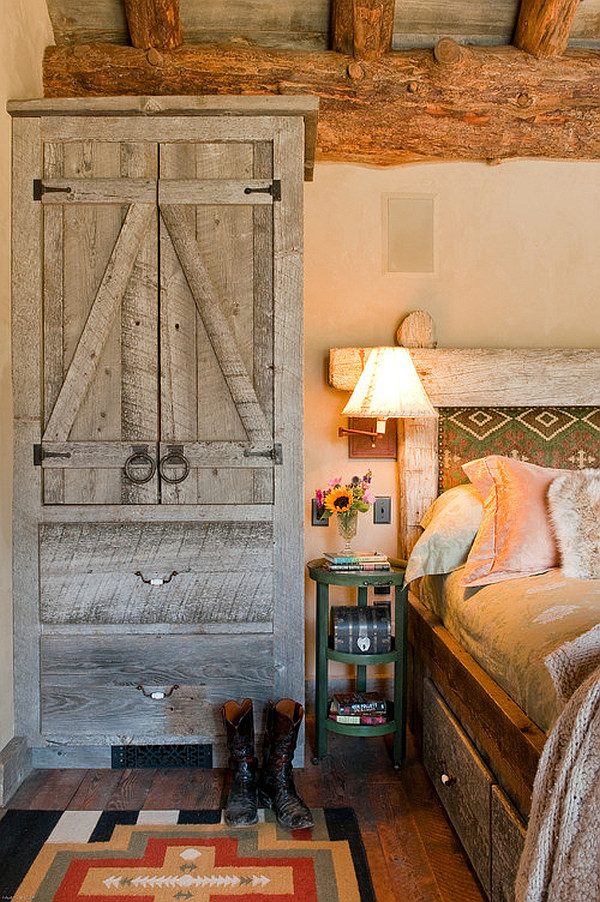 Cozy rustic bedroom design
by Dan Joseph Architects
Source:
http://www.decoist.com/2013-01-21/rustic-bedroom-ideas/