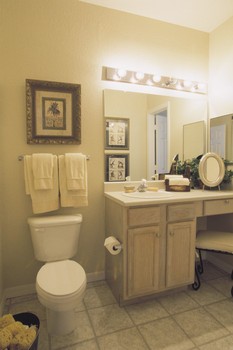 Bathroom vanity top is a countertop made in a bathroom with a sink in it. Hence, it is also referred to as a bathroom vanity sink top. It is basically a shelf which has drawers or open shelf panels below the top. These shelves can be used as a way to hide the plumbing and pipes. With the counter installed, your personal vanity items will have a storage space of their own.

Bathroom vanity counter tops, till recent times, have remained one of the most neglected areas. However, people have now realized the importance of space utilization and bathroom decor. A word of caution though: 'Invest in the bathroom vanity counter tops only if you intend to spend at least a good part of your life in that house. Else, it will be a sheer waste of money'.

What are Bathroom Vanity Sink Tops Made Of?

The vanity counter tops are available in a variety of materials. They are discussed below.

Wooden Vanity Counters: Wood can be used to make vanity tops. However, it is not the best option for making the bathroom counter, as the ample moisture present in bathrooms tends to ruin the wooden structure.

Plastic Sink Counters: Plastic and synthetic materials are unaffected by moisture, hence, they are increasingly used to make vanity tops for bathrooms and other wet areas of the house. The variety available in plastic and synthetic is also rich. They are available in metallic, matte and glossy finishes. Normally, there are a number of electric appliances which are used in the bathroom. The heat from these appliances can ruin the plastic or synthetic laminates. Therefore, appropriate care should be taken while installing the electrical appliances.

Granite Bathroom Sink Tops: Granite is one of the most long-lasting countertops. It is available in a number of colors. Color of granite countertops are unaffected by heat and moisture. They are also scratch-resistant. They suit bathrooms the best as bacteria cannot grow on them. It is necessary to procure the entire stock of granite at the same time as no two pieces of granite look the same.

Marble Bathroom Countertops: Marble ranks second to granite for bathroom sink counters. Marble stones can be polished to shine well. Like granite, marble is also found in a range of colors, size and finishes. However, marble is not scratch-resistant and also has a tendency to chip off easily. It gets affected by acids, therefore, care should be taken to wipe off anything that falls on it immediately.

Glass Vanity Tops: Glass is used as a 'green alternative' to granite and marble, for making bathroom sink tops. Glass countertops are available in a myriad of colors, sizes and shapes to suit the taste of the wide range of patrons it has. The biggest disadvantage with a glass vanity top is that the space below the countertop cannot be used for storage. The other disadvantage of glass vanity tops is that glass is fragile and can break easily. Glass can get affected by heat and moisture in the bathroom. Hence, it might not be an economical option albeit being a greener one. There are some glass vanity tops which are made from recycled glass. Porcelain or concrete is mixed with glass to manufacture tops as well.

Slate Countertops: Slate is one of the most durable materials used to make vanity tops. It is maintenance-free, water-proof and durable and does not get affected by acids. It is not scratch-proof, though with the use of mineral oil the scratches can disappear. Slate has a huge disadvantage - if exposed to very low temperature, the layers start peeling off.

Each of the materials used to make bathroom sink tops come with their own advantages and disadvantages. Which is deemed the best option in vanity tops for bathrooms depends upon personal choice, climatic conditions and budget of the buyer.
Source:
http://www.buzzle.com/articles/bathroom-vanity-tops.html