Fabric structures such as awnings are a necessary part of enjoying the outdoors. People want to escape the heat, but they also want to stay protected from the sun's dangerous ultraviolet rays. Awnings, shade sails, patio umbrellas and tent shades are just a few options. These structures, which are basically canvas or vinyl stretched across a wood or metal frame, serve these purposes, are attractive in outdoor spaces and are available in a range of styles and prices. Does this Spark an idea?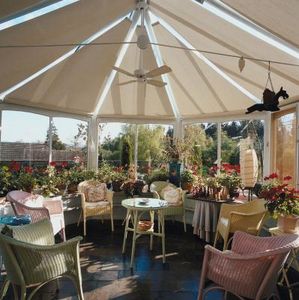 Awning
Awnings come in a few styles. Window awnings are small awnings located above a window or sometimes a door, and they are usually more for decorative purposes. Retractable awnings are the larger systems that you can have installed from a building or home to provide shade to a deck or patio area. They can be opened quickly and easily when needed and retracted when not in use, allowing them to last longer. They come with multiyear warranties.
Shade Sail
Shade sails are like ships' sails in that they are weather-resistant and fade-resistant fabric stretched between moorings. But instead of being positioned vertically to catch the wind and provide movement, they are positioned horizontally to block the sun and provide shade. Shade sails can extend from a roof like an awning, or they can be placed wherever you like and anchored to large, sturdy poles. They come in a variety of colors and also in square, triangular and rectangular shapes.
Umbrella
A big umbrella is another option. Umbrellas come in sizes from 6 to 11 feet in diameter, and, like shade sails, are available in several colors. You can get the traditional style of umbrella, a shade canvas attached to a pole, or one attached to an offset base, suitable for covering a table without an umbrella hole or for covering a hot tub. You can choose fancy wooden or more standard metal poles. Get a crank for easy opening and closing, or even a tilt umbrella with a movable top.
Shade Tent
The versatility of a shade tent makes it another suitable option. For a neighborhood event, rent a big shade tent to cover a large area. For a private backyard, purchase a smaller one to cover a patio table or your deck area. Shade tents can be transported, set up and taken down easily, and they can be put wherever you need them: a park, a rooftop, a church parking lot, the front yard or on school grounds.
Source:
http://www.ehow.com/info_12182517_awning-fabric-structures.html