The Adirondack chair is a simple rustic wooden chair for outdoor use. In the original design it was made with 11 flat wooden boards, with a straight back and seat. It also features wide armrests. In Canada it is sometimes known as the Muskoka chair, from the eponymous Canadian town.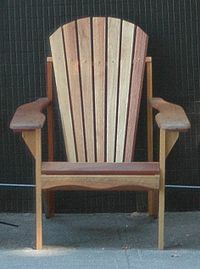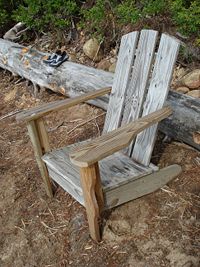 The precursor to today's Adirondack chair was designed by Thomas Lee in 1903. He was on vacation in Westport, New York, in the Adirondack Mountains, and needed outdoor chairs for his summer home. He tested the first designs on his family. After arriving at a final design for the "Westport plank chair," Lee offered it to Harry Bunnell, a carpenter friend in Westport, who was in need of a winter income. Bunnell quickly realized the chair was the perfect item to sell to Westport's summer residents, and apparently without asking Lee's permission, Bunnell filed for and received patent 794,777 in 1905. Bunnell manufactured his plank chairs for the next twenty years. His "Westport chairs" were all signed and made of hemlock in green or medium dark brown.
Today's Adirondack chairs usually feature a rounded back and contoured seat. The style has also been translated to other pieces of furniture, from gliders to love seats. Some modern Adirondack chairs are made out of plastic lumber or engineered wood instead of wood.
Adirondack chairs are becoming popular as outdoor seating at cafés because the flat armrests are suitable for setting food and beverages on, making it possible to provide individual seating without tables.
They are commonly made as school projects around the world.
Adirondacking is a term used in the southern U.S. to describe public picnics at which people sit primarily in Adirondack chairs. It is also used to describe using public Adirondack-chair displays outside home-improvement and grocery stores as a leisure break while shopping.
Source:
http://en.wikipedia.org/wiki/Adirondack_chair