Recently, Shenzhen Unilumin Group Co., Ltd has been awarded Witness Certification by TüV SüD Group. This certification provides strong guarantee for Unilumin to continuously improving self R&D capacity and quality control and management. Simultaneously also means that the testing capacity of Unilumin on product safety performance has reached to international advanced level.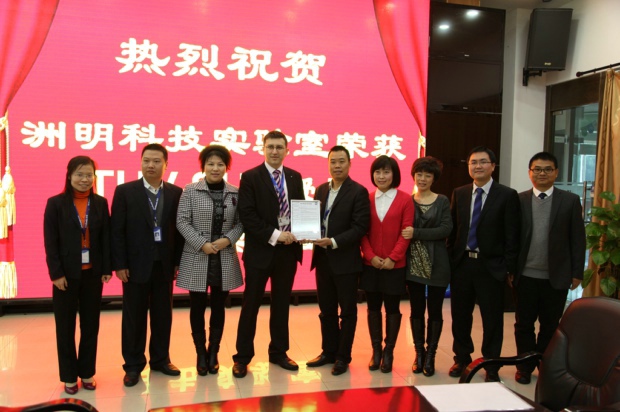 Mr. Radu Gosav, the EMC department manager of TüV SüD China awarded the Certification and expressed that with conserving energy and reducing emissions bing taken as the focus issue for the whole society, LED lighting products has been widely used in our daily life. How to make Chinese LED lighting products satisfy the international standards and tackle the TBT are the issues faced to China LED lighting enterprises for expanding global market. In order to improve the competitive ability of the company in the international market, it is a necessary way for China well-known LED lighting company to make cooperation with the independent third-party organizations like TüV SüD.
As introduction, with this certification, it will not only supplied the quality and certification guarantee for Unilumin to expending foreign market, but also improve the international position of China LED lighting enterprises. At the same time, it can help TüV SüD to make further understanding of the effective requirements of China LED lighting company, so as to supply more perfect on-stop technical service for them.
Unilumin technology center laboratory was established in 2011. At present there has been set Production Compliance laboratory, optical laboratory, EMC and environment laboratory. With a group of professional technical testing and management personnels and over 60 sets testing equipment, the laboratory supplies Uniliumin powerful technical support and guarantee on products development and quality control.
Witness Certification is of great significance to the companies with foreign trade business. The test for certification programs can be made at site of company by the witness of TüV engineer which greatly shorten the time for testing and certification.
The cooperation between Unilumin and international authority certification organization will do drive more and more China LED lighting enterprises to accelerate international development as well as promote the industry development.
Source:
http://www.led-search.com/news-view-1365.html