?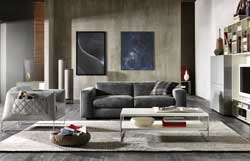 Cantoni's new Natuzzi Italia store-within-a-store has a number of fully accessorized vignettes, including this one featuring Natuzzi's Brio collection.
DALLAS — Contemporary furniture retailer Cantoni is set to open a Natuzzi Italia store-within-a-store at its newly expanded flagship store here.
The 4,000-square-foot, glass-encased Natuzzi space is exclusive to Cantoni in Dallas and features about a dozen upper-end collections from the Natuzzi Italia line.
The collections are shown in vignettes that include distinctive case goods and accessories that are hand-crafted in Italy, according to Natuzzi.
"As we move forward for aggressive growth plans for Natuzzi Italia in major markets, we are particularly excited to partner with a retail leader like Cantoni because it provides great consumer exposure to the brand inside one of the industry's most recognized and respected lifestyle furniture retailers," said Brad Cates, senior vice president of Natuzzi Americas. "No one understands the desires of lifestyle-conscious shoppers in the Dallas market better than Cantoni."
The Natuzzi Italia showcase is part of a 20,000-square-foot expansion of the store that seeks to deliver a shopping experience typically found in Milan.
"Cantoni's partnership with Natuzzi Italia delivers on our 28-year commitment to bringing our clients the best in cutting-edge modern design," said Michael Wilkov, founder of Cantoni. "Natuzzi Italia designs are merchandised with a comprehensive range of high-style furnishings for the whole home concept that epitomizes the excellence, fashion and quality of products designed and crafted in Italy."
Cantoni has partnered with Modern Luxury Interiors magazine for a Dec. 6 grand opening called "A Celebration of Italian Design." It will feature live cooking demonstrations, Italian wines, and Italian-style music.
Source:
http://www.furnituretoday.com/article/557953-Cantoni_opens_Natuzzi_Italia_space_in_expanded_Dallas_store.php