Lately, Retop successfully installed a P6 outdoor front service LED display with size at 70sqm for SOGO Shopping Mall in Hong Kong.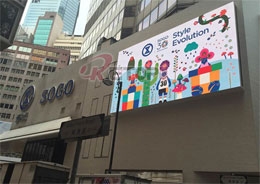 As a one stop LED solution provider, Retop is proud of its over 10,000 successful installations during its 18 years history. This P6 LED display is adopted front service cabinets, which is convenient for parts repair and replacement. If there is failure because of defective parts or workmanship, it is easy to repair from the front. Besides, with the brightness up to 6000nits, pedestrians can get wonderful visual effect from this LED display in the front or from a distance far away and this high brightness can guarantee this screen working for a long time even up to 100, 000 hours. With a 2000:1 contrast ratio, Retop's P6 can deliver the best balance of contrast and brightness.
Plus, this product has many other features. First, running silently without fans, the cover of the module is specially designed as a heat sink. The heat generated from internal electronics such as power supplies is conducted through the heat sink. Second, full IP65 rating front and back makes sure the outdoor application.
SOGO shopping mall started business since 1985, and it is a comprehensive shopping center with many well known luxury brands. Hundreds and thousands of visitors come to SOGO to enjoy themselves. Retop's bright LED display will be there to welcome all visitors from around the world.
Source:
http://www.led-search.com/news-view-4110.html