The UK-based bedroom accessories specialist Feather and Black has joined forces with two Yorkshire-based cloth businesses.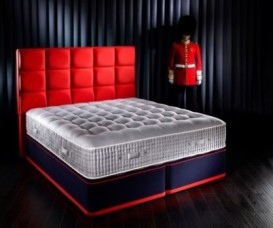 Titled London Collection, the luxury, high-end, handmade bed collection's divan base and headboard have been upholstered in Hainsworth's iconic fabrics.
The line also includes two mattresses- The Belgravia and The Grosvenor, all manufactured by Harrison Spinks. The mattresses are stuffed with a unique combination of tree silk, horse hair, cashmere and Egyptian cotton.
Speaking about the range, the West Sussex-based bed manufacturer said, "The London Collection offers our clients the very last word in luxury, being supremely comfortable but made to stand the test of time."
"This exciting collaboration offers the best in design and quality. As you would expect, the quality is unsurpassed, making for an extremely durable and exquisite finish," he said about the association.
Tom Hainsworth, MD of Hainsworth also spoke about the partnership in a statement, "We were delighted to collaborate with Feather and Black to develop their new top-end range. Each divan base and headboard is upholstered in our beautifully manufactured fabric which makes for a striking night's sleep."
"We are known for our craftsmanship, innovation and heritage and it is exciting to see our fabrics being used in such diverse ways – from luxurious beds to cutting edge catwalk fashion," he adds.
The collection is currently available on sale at five Feather and Black stores in London.
Source:
http://www.fibre2fashion.com/news/textile-news/newsdetails.aspx?news_id=170639