Macro Engineering and Technology, suppliers of film and sheet extrusion systems, has developed a universal winder which can wind either wide sheeting or narrow films on center.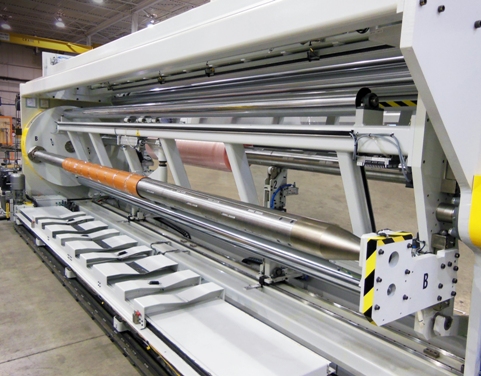 This configuration makes it the best choice for winding materials produced on geomembrane and agricultural film swing lines.
The winder which is a centre-turret type features two winding modes - one, a completely automatic mode for agricultural films and the other, a semi-automatic mode for geomembranes where the sheets have to be attached manually to the core by operators.
The machine has the capacity to accommodate webs with thicknesses between 30 and 2500 microns, widths between 1.0 m and 6.2 m, and winds rolls up to 800 mm in diameter on 150 mm cores.
The machine's winder operates at speeds of up to 120 m/min, can wind slit rolls (multiple ups), folded films and gusseted films (up to 8 folds). An unloading cart can help in removing rolls automatically from the winder.
Macro's film and sheet extrusion systems specialise in barrier film lines and custom engineered extrusion systems.
The company also specialises in manufacturing blown, cast and biaxially-oriented coextrusion lines for multilayer films up to 11-layers. It supplies sheet extrusion lines for specialty applications, along with extrusion coating and laminating lines.
Macro also develops customised winding solutions and supplies winding equipment for complex requirements which are primarily used in the food packaging, medical, and industrial markets.
Image: Macro Engineering and Technology has developed a winder to wind either wide sheeting or narrow films on center. Photo: courtesy of Macro Engineering and Technology.
Source:
http://www.packaging-business-review.com/news/macro-engineering-and-technology-develops-new-winder-031214-4457822