BassNation Audio launches its powered BlackBox all-wood audio speaker system to music enthusiast seeking powerful performance at an unbelievable price – only $295.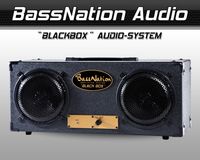 The BassNation BlackBox is a high-performance all-wood speaker system with a built-in digital amplifier that turns any music source product with an audio output jack, such as a headphone or RCA jack, into a loud and clear audio system with its simple plug and play set-up. This compact single box audio system connects easily with TVs for simple home theater, Smart Phones and devices as an iPad speaker, iPod speaker, iPhone speaker, MP3's, PC/MAC computers, and Gaming Consoles for enhanced sound performance.
The Electronic Industry Assocation (EIA), recently reported TV Sound Bars and iPhone docking speakers are the hottest growth category in consumer audio with an estimated 30% annual growth rate. BlackBox fits both applications as it is flexible, compact, portable and can be used everywhere – from dorm rooms, studios, DJ's, home theater and more!
Steffen Meeks, founder/CEO of BassNation Audio said, "We have something unique and special with our BlackBox. Like the Marshall Handwell loudspeaker, each BlackBox is handcrafted from wood, wrapped in vinyl with metal controls similar to pro-style audio speakers. There are no plastic parts in a BlackBox unit." Meeks also said, "At $295.00 we are hitting a popular and affordable price point for a premium performance product. Marshall, Bose and other popular brands charge $600-$800 for their premium models. This should be a big hit with gamers and consumers that want an instant home theater and MP3 players or for Xbox, PlayStation, TV's and their mobile phones."
Source:
http://www.cedailynews.com/2012/12/bassnation-audio-introduces-its-blackbox-audio-system-for-tvs-mp3s-ipods-smart-phones-gaming-and-mor.html