C.R. Laurence announces today that it has received International Code Council Evaluation Service certification (ICC-ES® Report ESR-3269) for its GRS Monolithic Tempered Glass Railing System. CRL is the first company to have been awarded certification for a glass railing system by the ICC. In addition, CRL also worked with ICC over the past year to develop and gain approval for the original acceptance criteria upon which the ESR-3269 Report was based.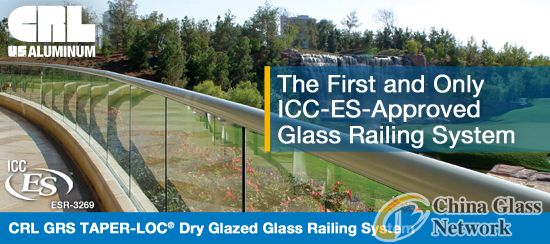 "This certification is a milestone for C.R. Laurence and it is a direct result of our many years of expertise in design, engineering, and manufacturing architectural railing systems, as well as to the quality and design of the GRS TAPER-LOC® Glass Railing System itself," says Lloyd Talbert, President of C.R. Laurence. "We worked closely with the International Code Council's Evaluation Service to establish the criteria for this product category, as well as to have our GRSTAPER-LOC® Glass Railing System be the first glass railing system to ever receive certification by this premier building product evaluation service."
"Costly and time consuming special engineering reports are done time and time again for railing systems in order to gain local building department approval to use them," says Chris Hanstad, Architectural Railing Brand Manager. "The commitment that we made to achieve the ICC Certification was the right thing to do because our GRSTAPER-LOC® System is now a documented, proven and certified system which is a tremendous benefit not only for architects and specifiers that specify glass railing systems, but also for the glazing contractors and glass shops that install them."

The GRS Glass Rail System structural glass balustrades evaluated in the ESR-3269 Report are intended for interior and exterior weather exposed applications, and are suitable for use in most natural environments. According the ICC-ES certification the GRS System can be used for residential, commercial, and industrial applications for guards along balconies, porches, mezzanines, stairs, and similar locations, except where vehicle impact resistance is required. The system has been certfied to be compatible with all construction types
ICC is the world leader in evaluating building products for code compliance and sustainable attributes. Architects, designers, and specifiers use ICC-ES evaluation reports before construction begins to find out which products are recognized by ICC as complying with code. Contractors use ICC-ES evaluation reports to find building products that they can use in the field and support, if a building inspector should raise questions, with written evidence of code compliance. ICC-ES evaluation reports are public documents, available free of charge on the worldwide web.
C.R. Laurence, headquartered in Los Angeles, California, is a worldwide manufacturer and supplier of glazing, architectural, railing,construction, screen, industrial, and automotive supplies. CRL serves its customers through a network of service centers located throughout the U.S., Canada, Europe and Australia. The principal CRL ecommerce web site is crlaurence.com. In addition, crl-arch.comserves the architectural community with a full selection of architectural hardware systems, and usalum.com is an up-to-date resource for the U.S. Aluminum product line.
Source:
http://www.glassinchina.com/news/newsDisplay_19868.html