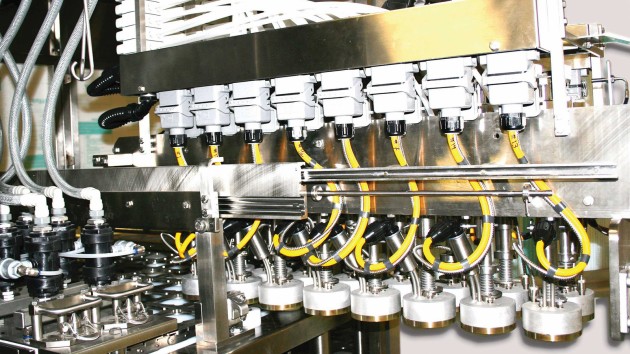 Bosch Packaging Technology has developed a new integrated system solution for liquid, viscous and pumpable foods.
The new Certiwrap Elite wrap-around cartoner was developed in cooperation with Osgood, the manufacturer of fill and seal machinery for pre-formed containers, and Kliklok-Woodman, the provider of vertical form, fill and seal (VFFS) machines and secondary packaging equipment.
Designed to meet the demand for containers in wrap-around cartons, the fill and seal equipment can reduce downtime for pre-made containers and is 3-A Sanitary Standards (3-A SSI) compliant.
Bosch plans to demonstrate the new solution, packing two yogurt cups in a cost-efficient wrap-around carton, at the PACK EXPO International 2016 scheduled to be held in Chicago, Illinois, from 6 to 9 November 2016.
Bosch Packaging Technology (Kliklok-Woodman) product manager secondary packaging and marketing director Janet Darnley said: "One of the key benefits of being a part of the Bosch Group, is the ability to mix and match primary and secondary packaging offerings to create truly unique solutions, which answer specific market and consumer needs.
"The liquid food system we are presenting at PACK EXPO International this year is testimony to such cooperation, offering our customers' trouble-free integration straight into their existing production setups."
Capable of ensuring accurate filling at speeds of up to 1,000 containers per minute, the new system allows liquid food manufacturers to reduce material waste.
Bosch Packaging Technology (Osgood Industries) North American sales and marketing manager Jonathan Viens said: "In addition to the streamlined, easy-to-operate and hygienic system solution, our customers now benefit from Bosch's extensive service network in North America."
Claimed to be ideal for liquid and viscous foods in cups, or other rigid containers, the Certiwrap Elite is designed to offer an economical secondary packaging solution by using less paperboard material.
When integrated with the Osgood S-series fill and seal machine, the Certiwrap Elite wrap-around cartoner offers a complete system solution for North American liquid food producers.
Source:
http://machineryandequipment.packaging-business-review.com/news/bosch-develops-new-integrated-system-solution-for-liquid-and-viscous-food-290616-4990805