BMW has unveiled its new concept car for the future, as part of the centenary celebrations at its Munich headquarters.
After completing 100 years, the German automaker has come out with its new vision of the next 100 years.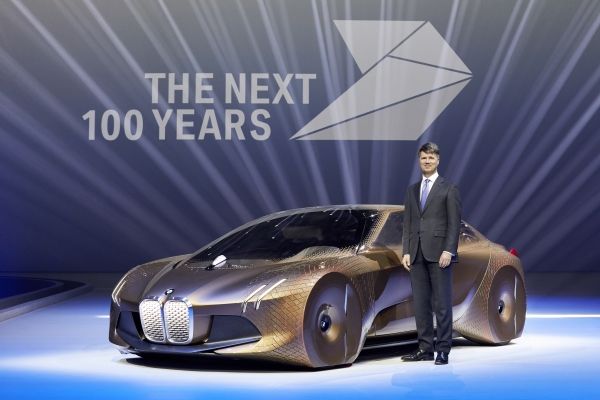 BMW says that the future of mobility lies in vehicles free from emissions and those which can drive themselves. This concept car could be the company's attempt at the same.
The concept car combines sporty elements of a coupe and the dynamic elegance of a sedan into one.
Vision Next 100 concept can be driven in two modes. One is driver-controlled mode and the other is vehicle-controlled mode.
In the driver-controlled mode, the driver can drive the vehicle with ease, as the entire vehicle focuses on supporting the driver to enhance driving experience.
It offers suggestions such as lane correction, ideal driving line, steering point and speed.
In vehicle-controlled mode, the steering and other controls will retract and the car will start driving itself. While this is happening, driver and the front seat passenger can turn towards each other to communicate.
The windscreen will also have an augmented reality display that can show information to the driver.
Apart from this, the windscreen can also be used for entertainment purposes.
Another important feature that BMW envisions with this concept car is that the artificial intelligence in the vehicle can learn about the driver or the passenger over some months or years and can offer to perform routine activities and can offer advice to the driver at times.
BMW group design head, Adrian van Hooydonk said: "If, as a designer, you are able to imagine something, there's a good chance it could one day become reality."
"So our objective with the BMW VISION NEXT 100 was to develop a future scenario that people would engage with."
Image: BMW's Chairman Harald Krüger with the new Concept Car. Photo: Courtesy of BMW
Source:
http://design.automotive-business-review.com/news/bmw-unveils-vision-next-100-concept-080316-4832129