Spanish packaging machinery solutions provider Comexi Group has launched Comexi NEXUS L20000, a water-based laminating machine specially designed for the HP Indigo 20000 digital press.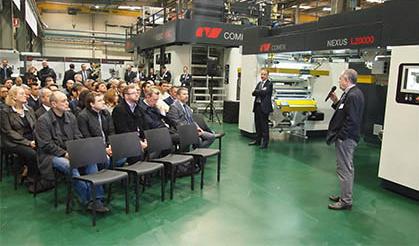 The company said that the new machine is faster and makes possible to deliver packages in less than 24 hours through intuitive machine set-up and the fast curing of water-based adhesives.
This implies a 60% reduction in time in comparison to conventional solvent-based and solventless technologies that might require a 2 to 14 day set-up.
Comexi launched the machine in front of 75 representatives from companies belonging to the flexible packaging and labelling sector.
Comexi Group director of corporate business development Miquel Salvà said: "Joining the HP Indigo 20000 digital press and the Comexi NEXUS L20000 laminating machine, as the result of a strategic agreement, is a qualitative leap for those flexible packaging converters who want to satisfy client demands and promote their business."
The company added that the new machine will offer profitability as it could help in reducing material waste during the set-up that is essential for jobs under 3000 metres, leading to decrease in costs and reduction in environmental impact. Easy operability ensures a greater number of projects per shift.
The Comexi NEXUS L20000 also comes with an automatic cleaning system that makes it possible for full wash-out and adhesive re-filling in 10 minutes.
The machine is also capable of easily switching functions between laminating and coating and offers flexibility in terms of size.
Image: Comexi launched its new Comexi NEXUS L20000 laminating machine in front of 75 industry representatives. Photo: courtesy of the Comexi Group industries.
Source:
http://www.packaging-business-review.com/news/comexi-group-launches-nexus-l20000-water-based-laminating-machine-150415-4554042