Mitsubishi has unveiled XR-PHEV plug-in-hybrid electric car concept at the 2014 Los Angeles Auto Show.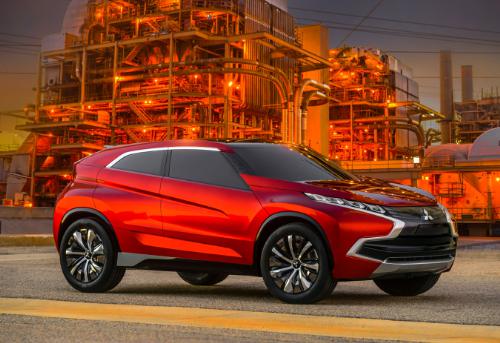 The crossover features innovative styling and performance-oriented drivetrain to provide a pleasant driving experience.
It is powered by 1.1-liter inline 3-cylinder turbo engine capable of producing 134 horsepower while a 14 kilowatt-hour (kWh) lithium ion battery is capable of producing 161 horsepower.
The combination of the turbo engine and lithium ion battery can push the vehicle to produce 294 horsepower, and provide 65 mpg in hybrid mode.
Mitsubishi has used AR (Augmented Reality) Windshield which is capable of displaying navigation directions, distances to the vehicle ahead, and highlight pedestrians and vehicles on the path of the car.
It also features Cooperative Adaptive Cruise Control, which is capable of informing the status of traffic light ahead.
Mitsubishi Motors North America executive vice president Don Swearingen said: "We brought the Concept XR-PHEV to LA so that we could talk about our new design direction and how future products will be taking clues from its dynamic lines."
"We also brought it to LA to reinforce the message that Mitsubishi is here to stay in the United States.
"As we regrow the brand we will introduce new models while updating existing ones, creating a new look and a new value proposition for the brand."
Image: Mitsubishi Concept XR-PHEV. Photo: courtesy of PR Newswire.
Source:
http://www.automotive-business-review.com/news/mitsubishi-unveils-plug-in-hybrid-electric-concept-car-xr-phev-211114-4446579