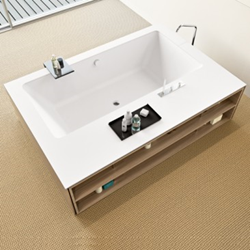 YBath announced its first Bath Event, running from September 1- 30. Save up to 20% on hundreds of top designs from 14 European and North American manufacturers. All the brands are on sale exclusively at YBath, including Keuco, Artelinea, MGS Faucets, Axor, Makro, Ambiance Bain, Sonobath, Italbrass, Alchemy Glass, Aquamass, Azzurra, Neptune, Arblu, and Kalia.
The designs range across categories, from sinks and faucets, to tubs and shower fixtures, to toilets and accessories. Some notable items in the event include:
MyStyle Large Freestanding Tub from Makro: Made of durable natural materials that resist abrasion and bacteria, this tub features built-in shelving and compartments.
Domino44 AL-345 Vanity Set from Artelinea: This impeccably designed package comes with a 65-in. vanity, an LED-lit mirror, and ample storage space.
Edition 11 Mirror Cabinet With Lift-Up Door from Keuco: The award-winning cabinet makes a bold statement with a wide, uninterrupted front that opens upward.
Bourouellec Shelf With Integrated Single-Handle Faucet from Axor:
Designed by Ronan and Erwan Bouroullec, this stylish, wall-mounted set includes a mineral-cast shelf and a ceramic cartridge for stability.
"We are very excited to hold our first major event since the launch of YBath last spring," says YDesign Group CEO Sean Callahan. "Being able to offer exclusive pricing on the best designs across bath categories makes this even more appealing to customers."
The Bath Event caps a strong debut for the brand, which is the first online retailer to focus on premium, modern bath designs. Since launching in April 2014, YBath has doubled the number of brands featured, and has seen order volume increase more than 100% from month to month. YBath offers a curated selection of thousands of decorative plumbing products from leading manufacturers—many of whom have never had an online presence. New brands and products continue to be added each month, along with unique, compelling content to inspire and inform users.
Source:
http://www.furniture-magazine.com/news/article/ybath-announces-first-ever-bath-event/