French food manufacturer Soulie Restauration, a unit of William Saurin, is launching a whole new ready meal product packed in a packaging solution provided by RPC Barrier Containers.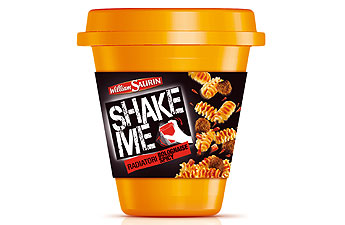 The new 'Shake Me' range is based on the principle of the shaker pack - where ingredients are shaken and mixed together instantly before eating - to pasta dishes.
Containing a sauce topped with pasta, each pack has to be microwaved and shaken before consumption.
As the pasta and sauce are kept separate until the last moment, the texture of the pasta remains intact.
RPC Bebo Plastik's thermoformed PP/EVOH/PP 590ml multilayer pot provides an ambient shelf life of 18 months.
Manufactured by RPC Bramlage, the injection moulded PP lid provides a tight hermetic seal, with the pot preventing leakage of the sauce.
The lid includes 52 small holes that allow steam evacuation during microwaving. The lid's design also enables the incorporation of a fork underneath for on-the-go consumption.
Aimed especially at the 18-25 year group, the pot design claims to offer easy handling.
William Saurin product manager Maxence Le Brun said "The pack provides effective product preservation and protection and, equally important, it projects a youthful quality image in keeping with our target market."
Image: Shake Me range from Soulie Restauration. Photo courtsey of RPC.
Source:
http://www.food-business-review.com/news/soulie-restaurations-shake-me-ready-meals-available-in-rpc-pot-190115-4490982