German luxury automaker, Mercedes-Benz has started production of its new E-class at its Sindelfingen plant.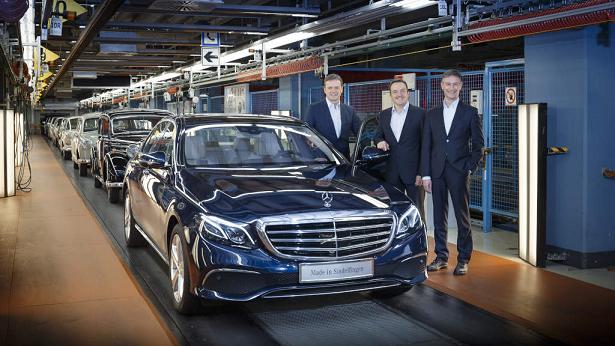 According to the company, this is the tenth generation of the E-class which was introduced back in 1936.
The new E-class is powered by a 2.0 liter four cylinder gasoline engine which generates 241hp and 273lb-ft of torque.
This power is distributed with the help of 9G-TRONIC nine speed automatic transmission which comes as a standard.
The sedan will feature a steel-spring suspension as standard with two direct control suspension systems with selective damping. These include Comfort Suspension and Sport Suspension.
Alternatively, customers can also opt for multi-chamber air suspension at all corners.
Apart from this, the new E-class will also feature Driver Assistance package that makes it an intelligent car in its class.
It also includes DRIVE PILOT, which is Mercedes-Benz's next step in autonomous driving.
These systems not only help in keeping the luxury sedan at a distance from other vehicles, it can do this at speeds of up to 210km/h.
Mercedes-Benz Cars, Production & Supply Chain Management, divisional board member, Markus Schfer said: "Around two million cars roll off the production lines at our Mercedes-Benz plants every year."
"Each of these vehicles represents something special - but this one is unique: it is the first model of the new E-Class.
"In front of us stands the world's most intelligent business saloon, built by the world's best employees. Intelligent, innovative, packed with high tech - and premium quality.
"We are confident that our customers around the world are going to be impressed."
Mercedes-Benz Sindelfingen plant, site manager, Michael Bauer said: "The start of series production in our 101st year continues the Sindelfingen success story."
"The E-Class stands for everything that makes our plant the competence center for upper range and luxury-class vehicles: tradition, innovation and the drive to set standards among the world's best."
Image: Mercedes-Benz E-Class at Sindelfingen production line. Photo: Courtesy of Mercedes-Benz
Source:
http://greenvehicles.automotive-business-review.com/news/mercedes-benz-begins-the-production-of-new-e-class-at-german-plant-290216-4823852