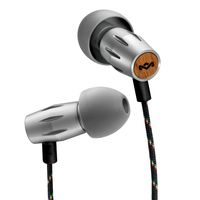 House of Marley today introduced its newest collection of earth-friendly,premium quality personal audio and lifestyle products at the 2013 International Consumer Electronics Show(CES),taking place January 8-11,2013 at the Las Vegas Convention Center in Las Vegas,Nevada.House of Marley will give CES attendees the chance to kick back,hear the love and experience great music from exceptional audio gear in Central Hall,Booth#10544.
House of Marley will provide a first look at a range of new products that will be available in 2013,many which will incorporate Bluetooth®wireless technology and the brand's exclusive upcycled fabric called REWIND™.Composed of reclaimed hemp and organic cotton,combined with the fibers of recycled water bottles(rPET),REWIND™is finished using water-based dyes and biodegradable TPU coating for durability and wear resistance.In 2012,House of Marley introduced the MARLEY Lively Up™and Lively Up™Leather bag collections comprised of everyday use packs and totes made with REWIND™fabric.
"When we started,we made a promise and a commitment to our planet and Marley fans,"said Rohan Marley,on behalf of his family."Today,we are continuing to work hard to deliver on that promise by creating extraordinary personal audio and lifestyle products that reflect our commitment to a global movement,and expresses our love of music,craft,the planet and people."
House of Marley products are sold in markets worldwide,including North America,South America,Europe,Asia,Australia,the Middle East and the Caribbean.House of Marley donates five percent of annual profits to 1Love,the global movement sparked by the Marley family that provides funding to charities and causes focused on youth,planet and peace.
"The Marley name is synonymous with universal messages of sustainability,humanity,authenticity and integrity shared through music and a way of living that transcends geography,demographics,and cultures,"said Senior Vice President and General Manager of House of Marley–North America,Sam Vanderveer."All attendees are invited to join our global Marley movement as we expand our distinctive audio and lifestyle product,while opening up the minds,eyes and ears of the industries in which we do business,as well as Marley fans around the world."
At the 2013 CES show,House of Marley will be showcasing its new collections that embody the Marley family's values of sustainability,humanity,authenticity and integrity.
Source:
http://www.cedailynews.com/2013/01/house-of-marley-unveils-earth-friendly-audio-systems-new-headphones-at-2013-international-consumer-e.html