Brewer Science Inc of Rolla, MO, USA, which provides specialty materials, integrated processes, and laboratory-scale wafer processing equipment, has announced the commercial release of the Cee X-PRO workstation with exhaust enclosure. The stand-alone workstation is a bridge for low- to medium-volume applications and delivers ultraclean performance and chemical containment, says the firm.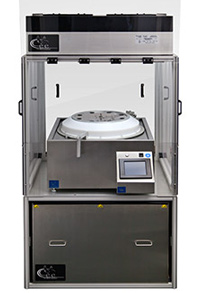 Picture: Cee X-Pro workstation.
"Mini-environments provide the precision-controlled laboratory conditions that are critical for conducting cutting-edge research within the microelectronics, biomedical, and pharmaceutical industries. The Cee X-PRO workstation gives customers a turnkey solution with exceptional particle control in a compact footprint design," said Justin Furse, Brewer Science equipment technology strategist.
Source:
http://www.semiconductor-today.com/news_items/2013/MAR/BREWER_210313.html