German automaker Mercedes has unveiled Vision Tokyo self driving concept car which continues the theme explored on the F015 Luxury in Motion concept.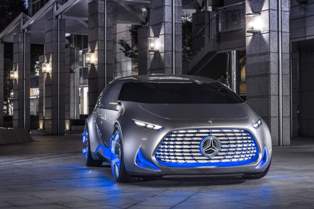 The car comes with F-CELL PLUG-IN HYBRID engine featured in F 015 Luxury in Motion concept car, along with a combination of a high-voltage battery that can be charged contactless via induction.
The electric hybrid system of Vision Tokyo has a total range of 980 km.
The five passenger car features a continuous stretch of glass paneling instead of a conventional windscreen, and the area across the front of the vehicle is designed to be used for displaying a series of different lighting functions.
The rear window is set into a surrounding ring of red LED cubes, giving it a visual depth.
Mercedes-Benz has used a large single upward-swinging door on the left-hand side which is specially designed for the right-hand-driving style in Japan.
Vision Tokyo's exterior features a large grille and 26in wheels that are illuminated in blue indicating its emissions-free, hydrogen-fuelled driveline.
Like most self driving cars Vision Tokyo also features various sensors and stereo camera that will allow the vehicle to drive itself.
Vision Tokyo is 4803mm long, 2100mm wide and 1600mm high which is 117mm shorter, 180mm wider and 75mm lower than the short wheelbase R-Class.
Daimler head of design Gorden Wagener said: "The Mercedes-Benz Vision Tokyo embodies the concept of an automotive lounge for a future generation of megacities.
"The purity and sensuality of the Vision Tokyo's styling defines a new interpretation of modern luxury from Mercedes-Benz."
Image: Mercedes-Benz Vision Tokyo. Photo: courtesy of Daimler AG.
Source:
http://design.automotive-business-review.com/news/mercedes-unveils-vision-tokyo-self-driving-car-281015-4703803