Jaguar Land Rover has confirmed its plans to open a £1bn manufacturing facility in Nitra, western Slovakia.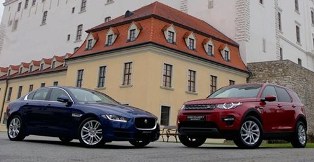 With the plant, Jaguar Land Rover will be first British car maker to set up a plant in the country and it will employ about 2,800 people.
Jaguar Land Rover has selected Slovakia for the plant after assessing a number of locations in the US, Mexico and other European countries.
The Slovakian plant is expected to have initial manufacturing capacity of 150,000 vehicles per year and is expected to produce range of aluminum Jaguar Land Rover vehicles.
Jaguar expects the construction of the facility to begin next year, and it anticipates the first cars to roll off the production line in late 2018.
The automaker recently announced its plans to double the size of its Engine Manufacturing Centre (EMC) in Midland, UK by investing £450m.
The facility presently manufactures high technology, low emission Ingenium engine and in 12 months the company produced more than 50,000 engines.
Jaguar Land Rover CEO Dr Ralf Speth said: "Jaguar Land Rover is delighted today to welcome Slovakia into our family.
"The new factory will complement ourexisting facilities in the UK, China, India and Brazil and
marks the next step in the company's strategy to become a truly global business."
The company has been making efforts towards international expansion, as previously it opened a new joint venture in China, and started construction of its local manufacturing plant in Brazil at the end of 2014.
With the international expansion the company expects to offer its customers new models, and create a globally competitive business.
Image: Jaguar Land Rover to build car plant in in Nitra, western Slovakia. Photo: courtesy of Jaguar Land Rover.
Source:
http://greenvehicles.automotive-business-review.com/news/jaguar-land-rover-to-build-1bn-car-plant-in-slovakia-141215-4752114