Japanese automaker Mazda is set to showcase the fourth-generation of MX-5 vehicles that include the 2016 MX-5 Spyder Concept and 2016 MX-5 Speedster Concept at the 2015 SEMA Show in Las Vegas.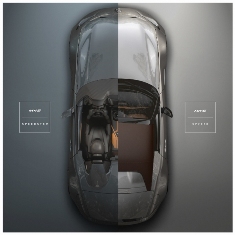 The company has released a teaser image consisting half-and-half of both concept cars pasted together.
According to the automaker, both the cars have a totally different take on the fourth-generation MX-5 and are significantly lighter than the standard MX-5 sold in the US.
The MX-5 Spyder has character of a vintage roadster which has been given a modern design with custom-made leather interior details and a new Mercury Silver concept paint color.
On the other hand, the MX-5 Speedster is a tribute to the 1950 roadsters and has been designed to be extremely lightweight with purpose-built performance.
Mazda has replaced the traditional windshield for a smaller, and lighter, wind deflector in the Blue Ether-painted MX-5 Speedster.
Mazda said that the cars will be available in different conceptual and aftermarket pieces and fabrication from its partners including Racing Beat, Haartz Corporation, ASC - American Sunroof Corporation, Makin Industries/RAYS Wheels, KW Suspensions, Delta Seat, and H&R Springs.
The automaker also recently introduced another sports car named Mazda RX-VISION featuring its flagship rotary engines that generates power through the rotational motion of a triangular rotor at the Tokyo Motor Show.
The latest rotary engine featured in the Mazda RX-VISION is based on the SKAYCTIV TECHNOLOGY and is likely solve three key issues with previous rotary engines which include fuel economy, emissions and reliability.
Image: Mazda to Debut Two Extreme Lightweight MX-5 Miata Concepts at SEMA. Photo: courtesy of PR Newswire.
Source:
http://design.automotive-business-review.com/news/mazda-to-unveil-next-generation-mx-5-vehicles-at-sema-show-301015-4706282