Nestle Vietnam has begun construction of a new nutrition manufacturing facility with an investment of $70m at the Thang Long Industrial Park II in Hung Yen province.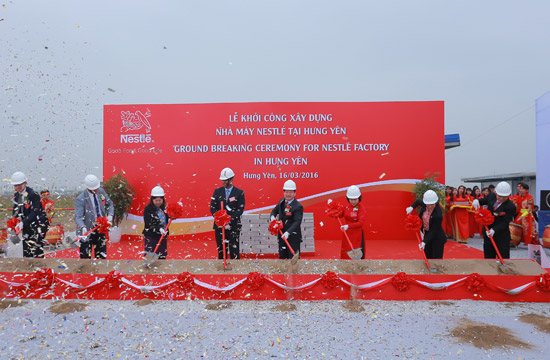 The new plant, which is being constructed on a 10 hectare area, will develop a new product line for the company to meet the domestic demand.
Equipped with modern technology, the facility has been built as part of Nestle's growth strategy in Vietnam.
The new facility also intends to minimize environmental impact along with optimizing the use of natural resources.
Nestle's new facility is also expected to contribute to Nestle's products closer to consumers in the North, thereby helping the company deliver fresh products to the consumers.
The plant is likely to become operational by May 2017 and is expected to create 300 jobs for local people.
Nestle Vietnam CEO Ganesan AMPALAVANAR said: "The new factory in Hung Yen will be the 6th plant of Nestlé in Vietnam and the second plant is located in Hung Yen province. This investment represents the firm conviction that we have for the development of Vietnam's economy.
"As a local company - multinational, we look forward to creating value for the community through bringing employment opportunities, creating high-quality products Nestlé Vietnam by the person making, contribute to meeting the growing demand of consumers in Vietnam, especially in northern areas, thereby contributing to the growth of national economy."
Nestle has been increasing its investment in Vietnam over the past two decades from $24m in 1995 to $520m by 2016.
The move follows the company's €25m expansion plan of its research and development center in Askeaton, Ireland. This facility produces powdered milk-based products for infants, young children and mothers which are exported to world markets.
Image: Nestle plans new facility in Vietnam to cater to domestic market. Photo: Courtesy of Nestle Vietnam.
Source:
http://www.food-business-review.com/news/nestle-vietnam-begins-construction-on-70m-nutrition-plant-in-hung-yen-province-4842445