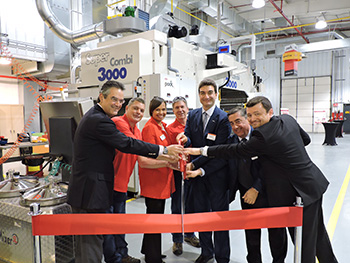 Dow Chemical Company's Packaging and Specialty Plastics (P&SP) business has launched new innovation center, Pack Studios, in Ringwood, Illinois, US focused on laminating adhesive in North America.
Said to be the company's seventh location globally, Dow's Pack Studios intends to accelerate packaging application projects.
In August, Dow launched Pack Studios Singapore to provide packaging solutions through a global network of labs, experts and testing equipment.
Pack Studios Ringwood is aimed at providing collaborative environment to help customers develop new laminating adhesives solutions with reduced cost and reduced cycle time on fabrication, prototyping and testing.
Featuring collaboration room and an Nordmeccanica Super Combi 3000 laminator line for faster commercialization of new adhesive solutions, the facility is expected to accelerate a range of plastics applications including laminating adhesives projects.
Earlier, Dow partnered with Nordmeccanica, a provider of coating, laminating and metallizing machinery, in a bid to accelerate laminating adhesives development.
As part of this effort, the Pack Studios Ringwood was launched which followed the establishment of Dow's Pack Studios in Mozzate, Italy in 2015 to address the laminating adhesives needs.
Dow Packaging and Specialty Plastics North America commercial vice-president Karen Carter said: "Pack Studios Ringwood gives our customers an opportunity to leverage Dow's global network of expertise, broad product portfolio and application testing capabilities with Nordmeccanica's equipment excellence to accelerate the development of game changing laminating adhesives solutions for the packaging industry.
"Our collaboration with Nordmeccanica will bring benefits to our customers and advance solutions for the entire laminating adhesives industry."
Pack Studios Ringwood will also serve as innovation and technology training center for North America, the company said.
Source:
http://packagingmaterials.packaging-business-review.com/news/dow-launches-innovation-center-in-us-for-packaging-industry-230916-5013707