Switzerland based textile machinery manufacturer SSM AG has expressed complete satisfaction with its participation at the just concluded ShanghaiTex exhibition in China.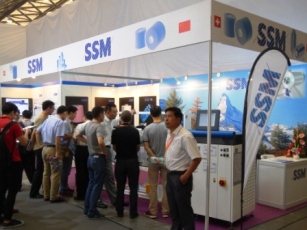 According to a SSM press release, the Swiss inventor of the electronic yarn traverse system, showed two applications; the Dyeing/Rewinding machine and the Assembly Winder.
It showed the versatility of the SSM TW2plus-W precision package winder which due to the electronic fastflex yarn laying technology, a high flexibility in producing made-to-measure cross wound package is possible.
"The ergonomic design and enduring technology reduces maintenance and service expenses down to a minimum," it said.
SSM added, "Improved winding performance and package quality are further generated by digitens, the SSM technology for tension control during winding."
In case of the SSM TW2-D assembly winder, TW2 stands for innovative solutions, rugged technology and application of the essential.
"The winder not only enables an improvement of the thread path, but also is a simplified superior winder," the Swiss machinery producer informed.
Combined with the easy adaptation to a variety of yarns, the TW2-D is the assembly winding system for an economically and consistently fulfilling of customer requirements.
Besides these technologies, SSM also provides solutions in air texturing, false twist texturing, air covering, draw winding, yarn singeing, sewing thread winding and conventional covering.
Source:
http://www.fibre2fashion.com/news/textile-news/newsdetails.aspx?news_id=173303