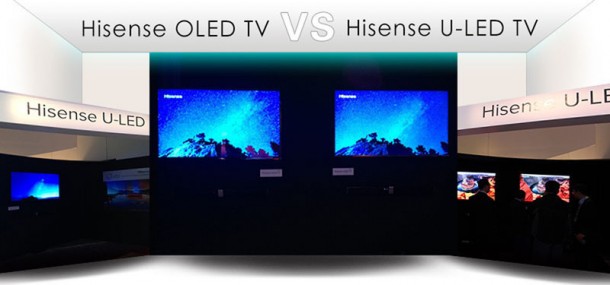 U-LED technologyThere is a new jargon added to the world of television with Hisense recently announcing Ultra HD 4K TVs which make use of the proprietary U-LED technology. The company claims can easily match the performance of organic light emitting diodes. Although the 'U' in U-LED has not been officially labeled, we are of the belief that it probably stands for Ultra. The first ever Hisense U-LED TVs are now scheduled for release in China by February ending, in 2014.
Comparing the ULED TV and OLED TV?
At the Hisense Booth, at CES Central Hall, they carried out a field performance test which compares the Hisense ULED TV and OLED TV. They welcomed appraisals from the industry experts, presenting the rise of interest among the audience regarding the products. This comparison of products showcased that Hisense ULED had a much advanced screen performance with screen fluency and color reproduction comparable to OLED technology.
The next generation ULED television by Hisense has also applied the scene engine technology, which aims at achieving a million-to-one image contrast ratio using the fine backlight control, and groundbreaking technology in video image algorithms. This helps in dramatically increasing the color performance as well as the speed of response, at the same time bringing the LED video quality to a complete new level.
What makes Hisense an innovative leader?
Hisense has used its independent and innovative drive to achieve numerous technological breakthroughs in the LED-backlit LCD TV, and this has applied for approximately dozens of Chinese invention patents. The company also already accepted requests for two international patents until now. The U-LED technology now permits more accurate control of the light emitting diode panels through real time control of the backlight distribution along with overall improved display
Dr. Liu Weidong, who has been in charge of the Hisense ULED product development has made in clear that the company plans to enhance and promote the scene engine technology, while at the same time also enrich the U-LED product line to cover the demand of the market across the globe.
Source:
http://www.led-search.com/news-view-2576.html