Japanese automobile major Toyota has developed Mirai hydrogen fuel cell electric vehicle, charting out future course for mobility with an Environmental Protection Agency(EPA)-estimated rating of 312 miles driving range on a single fill of hydrogen.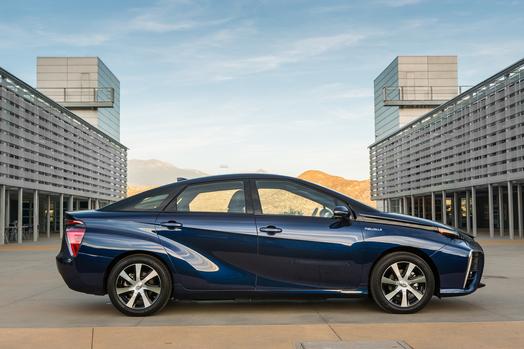 Poised to hit the stores in around next two months in California, Mirai is expected to notch 67 miles per gallon equivalent (mpge) during drives through city, highway or both, as per the estimation by EPA.
The electric vehicle has been touted to be the first-of-its-kind mass-produced automobile to surpass the 300 mile limit.
Toyota North America CEO Jim Lentz said: "Toyota realized in the early 90's that electrification was key to the future of the automobile.
"Just as the Prius introduced hybrid-electric vehicles to millions of customers nearly twenty years ago, the Mirai is now poised to usher in a new era of efficient, hydrogen transportation."
Toyota Mirai can be described as a four-door, mid-size sedan capable of being pitted against conventional internal combustion engines. When it comes to emission, the car has only water vapor to emit out of its exhaust pipes as it runs electricity on demand through hydrogen, oxygen and a fuel cell.
The vehicle will also have the feature of Safety Connect and Entune, incorporating an app capable of finding hydrogen station.
Image: Toyota's electric car Mirai displays 67 miles per gallon equivalent. Photo: courtesy of Toyota Motor.
Source:
http://greenpowertrain.automotive-business-review.com/news/toyotas-hydrogen-cell-powered-mirai-displays-312-miles-range-010715-4613511