Nissan previewed its half-ton pickup crew cab, the 2017 TITAN XD at the 2016 New York International Auto Show.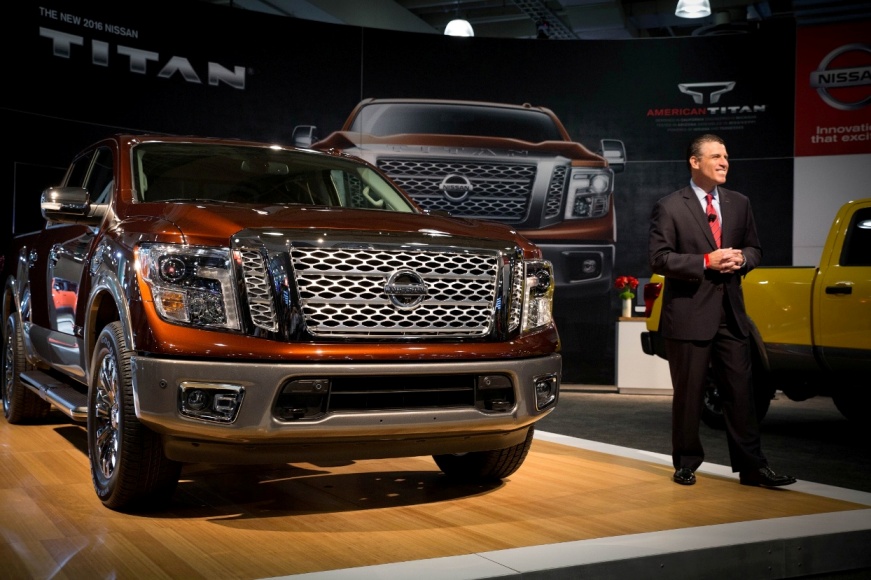 The Japanese automaker said that this new pickup will arrive at dealers nationwide this summer.
The new 2017 TITAN XD pickup is powered by a 5.6 liter eight cylinder (V8) gasoline engine, which gives power output of 390hp (290kW). Nissan has not given the details about the torque but going by the specs of previous models, the torque could be either 555lb-ft or more.
This power output is distributed to the wheels by a seven-speed automatic transmission with Adaptive Shift Control and Downshift Rev Matching.
Nissan North America, North America Trucks and Light Commercial Vehicles division vice president and general manager Fred Diaz said while revealing the new truck design: "The 2017 TITAN half-ton has the same aggressive style of the TITAN XD, but is about a foot shorter in wheelbase."
"They share the same cabs, but while it offers similar ruggedness and durability, the TITAN half-ton's chassis is completely different than XD."
The new TITAN is 228.1 inches long - 14.7 inches less than the larger TITAN XD (242.8 in.).
The company announced that at present, the 2017 TITAN will be launched only in Crew Cab model with Single and King Cab variants.
Pricing of the new 2017 TITAN XD had also been announced at $35,290. The V8 equipped TITAN XD will initially be available in five Crew Cab trim levels in both 4x4 and 4x2 drive configurations.
Nissan is also planning to release a six-cylinder variant of the engine at a later date.
Diaz said: "The TITAN XD stakes out a unique position in the full-size truck segment between traditional heavy-duty and light-duty entries."
"The bold new design combines the capabilities of a heavy-duty hauler with the drivability and affordability of a light-duty pickup."
"Now, with the addition of the powerful Endurance V8 gasoline engine, TITAN XD buyers can experience the 'Every Duty TITAN XD two ways."
The company is also offering the new TITAN XD with a range of popular equipment packages with which buyers can fine-tune their vehicles to give out a desired use.
Image: Fred Diaz, Nissan North America unveiling Nissan 2017 TITAN XD. Photo: Courtesy of Nissan
Source:
http://design.automotive-business-review.com/news/nissan-debuts-its-pickup-truck-titan-2017-at-the-2016-new-york-international-auto-show-280316-4848419