Bentley has recently revealed details about its flagship luxury range, Mulsanne sedan.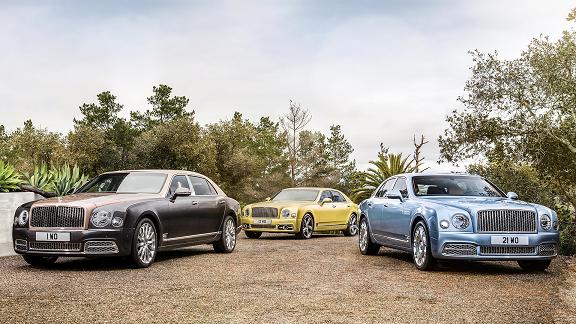 Mulsanne has three variants which include Mulsanne, Mulsanne Speed, Mulsanne Extended Wheelbase models.
These three variants have been handcrafted at its Crewe plant in England.
Musanne range is powered by a 6.75 liter V8 turbocharged engine which has been refined for more power and improved fuel efficiency.
It produces a power output of 505hp (377kW) and (1020Nm) 752 lb-ft of torque. This power and torque are transmitted through 8 speed automatic transmission allowing the cars to accelerate from 0-60mph in 4.8 seconds. It can reach to a top speed of 184mph (296kmh).
The transmission can be controlled using paddle shifter mounted on the steering wheel.
Mulsanne sedan claimed to provide a fuel efficiency of 11mpg in city and 18mpg on the highway.
The luxury sedan is supported by air suspension system with Continuous Damping Control (CDC) which creates a refined and comfortable ride at lower speeds.
It automatically reduces the height of the vehicle at high speeds to reduce lift and improve aerodynamic stability.
Mulsanne has additional features such as an infotainment system, a navigation system, blind spot warning system which can detect objects while speeding between 10kmh and 250kmh and give out visual warnings to the driver.
Additional safety features added with the sedan include Advanced Automatic Stability Control (ASC) which helps collision mitigation.
Bentley Motors, chairman and chief executive, Wolfgang Dürheimer said: "The Mulsanne is the epitome of Bentley's DNA - exquisite, individual and powerful.
"It defines luxury in the automotive world and offers a uniquely Bentley blend of luxury and performance.
"The three distinct handcrafted models now available each offer customers something different.
"The Mulsanne, with its understated elegance and sporting purpose, remains the consummate luxury limousine; the Mulsanne Speed is the pinnacle of luxury and performance thanks to its immense power, torque and refinement; and now the Mulsanne Extended Wheelbase - with its extraordinary airline-style seats and rear-passenger bias - becomes the new benchmark in automotive comfort."
Image: Bentley Mulsanne Family Range. Photo: Courtesy of Bentley
Source:
http://design.automotive-business-review.com/news/bentley-releases-details-of-mulsanne-sedan-290216-4824591