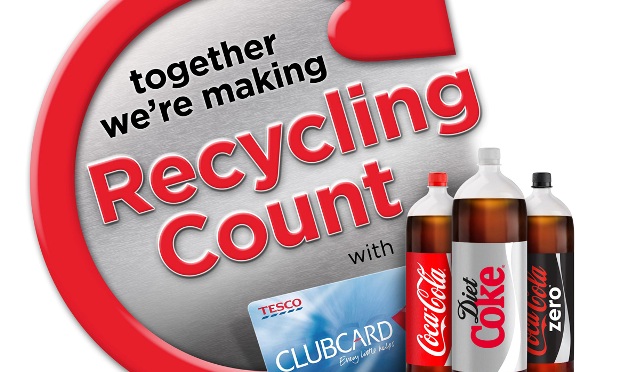 Launching on 12 June, the exclusive online campaign – 'Together we're making recycling count' – will target Tesco Clubcard customers with an invitation to 'pledge' to recycle.
In return for their pledge, customers can choose to receive either a 50p off voucher for Coca-Cola, Diet Coke or Coke Zero or 25 additional Tesco Clubcard points.
The jointly developed campaign website will ask customers three simple multiple choice questions before they can pledge.
CCE said that a live feed will show the total number of pledges received during the six week long activity, as well as the equivalent tonnage volume of waste recycling, so that everyone visiting will be able to see exactly how large a contribution they are making.
Customers will also receive a follow-up email eight weeks later, reminding them of their pledge and offering an opportunity to enter a further prize draw for a range of exciting rewards including the following:
One of five eco-fridges with £300 of Tesco vouchers for food; and 12,000 exclusive Coke fridge magnets, crafted from recycled PET bottles
In a statement, both firms said: "Both businesses are committed to working collaboratively to help consumers participate more in everyday recycling and educating shoppers about the genuinely important role they can play – through simple household recycling – in reducing the national carbon footprint."
Julian Hunt, VP public affairs and communications GB, Coca-Cola Enterprises explained: "This campaign demonstrates our commitment to reducing both our own carbon footprint and helping our consumers do the same. We all know that recycling our household waste counts, but this campaign allows both us and our retail partner, Tesco, to really make that genuinely tangible for shoppers. This is the first time that a communication campaign on this scale has directly highlighted in home recycling as a key topic.
"Working closely with Tesco has allowed us to develop jointly a campaign that uses effective online communications to reach as wide an audience as possible and the pledge mechanic ensures that we are helping consumers understand exactly what they need to do to play their role. We know that consumers often positively change behaviour, but they need both education and encouragement and this joint campaign is set to do this across the whole of summer 2013."
Rebecca Shelley, group corporate affairs director, Tesco, added: "Tesco is determined to tackle climate change by helping reduce the carbon emissions from the products we sell. Using our combined reach, Tesco and Coca-Cola Enterprises are working together to help millions of customers find simple ways to recycle more."
'Together we're making recycling count' launches online on 12th June and runs for 14 weeks across summer 2013.
Source:
http://www.packagingnews.co.uk/news/coke-links-with-tesco-to-encourage-customers-home-recyclin/