Certainly lead the trend. It also serves as an important guarantee for suppliers to win trust from customers. Following last year Lenovo cooperated with SGS to successfully hold supplier conference, in this year, the parties come jointly again to guide and coordinate with Lenovo suppliers, based on the rich experience and professional techniques of SGS in electrical and electronic industry, in enhancing their understanding of "full material declaration", working out responding solutions and promoting product quality to further speed up Lenovo growth in environmental protection.
Mr. Du Jiabin, SGS General Manager of Consumer Product Testing Service expressed that SGS is the world's leading third-party inspection, verification, testing and certification company. As one of the testing and certification bodies authorized by Lenovo, SGS will continue to support the corporate guideline of Lenovo Group – focus on both green and technology, actively coordinate with Lenovo Group in the promotion of green concepts, and fully support Lenovo to carry out "full material declaration" so that it may effectively help Lenovo products comply with global regulations on environmental protection and mutually achieve a sustainable development of electrical & electronic industry.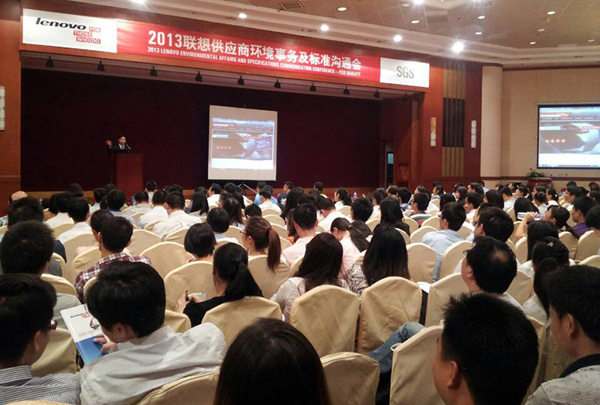 As an internationally well-known and world's leading testing and certification third-party, SGS dares to innovate. With world's biggest regulation experts network, rich experience on hazardous substances management and world-recognized laboratories, SGS can provide enterprises with total one-stop solution for electrical and electronic industry. Services include restricted substances testing, products certification, testing reports database, factory audit, system certification, training programs, consultancy services, energy-saving and low-carbon, and so forth. It helps enterprises fundamentally solve many "green" manufacturing problems; access the international market smoothly and quickly.
Related Link
Lenovo Profile
Today, Lenovo is a US$34 billion personal technology company and the world's largest PC vendor. We have more than 27,000 employees in more than 60 countries serving customers in more than 160 countries.A global Fortune 500 company, we have headquarters in Beijing, China and Morrisville, North Carolina, U.S.; major research centers in Yokohama, Japan; Beijing, Shanghai and Shenzhen, China; and Morrisville; and we have manufacturing around the world from Greensboro, North Carolina and Monterrey, Mexico to India, China and Brazil.
We have momentum. Long the leader in China with more than 30 percent market share in PCs, Lenovo is growing rapidly and winning market share in all parts of the world.
Lenovo's business is built on product innovation, a highly efficient global supply chain and strong strategic execution. The company develops, manufactures and markets reliable, high-quality, secure and easy-to-use technology products and services for customers who want technology that does more— because people have a lot more to do. Our product lines include legendary Think-branded commercial PCs and Idea-branded consumer PCs, as well as servers, workstations and a family of mobile internet devices, including tablets and smart phones.
SGS Profile
SGS is the world's leading inspection, verification, testing and certification company. SGS is recognized as the global benchmark for quality and integrity. With more than 75,000 employees, SGS operates a network of over 1,500 offices and laboratories around the world.
SGS-CSTC Standards Technical Service Co., Ltd. was founded in 1991 as a joint venture between SGS Group and China Standard Technology Development Corporation under the State Administration of Quality Technical Supervision. SGS Hong Kong was founded in 1959. Together, SGS boasts over 60 branches and dozens of laboratories with around 13,000 professionals in mainland China and Hong Kong.
We serve the supply chain of various sectors, such as agricultural, minerals, petrochemicals, industrial, consumer products, automotive and life science. For years SGS has geared up innovations and resources in environment protection, alternative energy, energy efficiency and low carbon initiatives. The testing, inspection and certification services we provide help local and overseas businesses, governments and institutions develop sustainable solution that balance People, Planet and Profit.
As a committed corporate citizen, SGS pledges accountability to the community. For example, we helped to renovate a school in Gansu Jiajiawa where our staff members work as volunteer teachers over the long term to improve local education. We monitor our energy efficiency performance and retrofit our utilities in a bid to reduce our carbon emission. And we regularly contribute to charities concerned with education, poverty, and natural disaster aid and environment protection.
Our service excellence and emphasis on sustainable development has won us many accolades, including the "The Best Inspection and Certification Enterprise Award", "The Most Reliable Foreign Trade Service Provider", "Multinational Corporation in China Contribution Award", "Quick Response Corporate and Innovative Services", "China Best Customer Service Special Award", "China Foreign Trade Contribution Award", "China Quality Integrity Enterprise", "Best CSR Enterprise Award", "Best HRM Companies" and "Most Popular Training Institution" in the Chinese mainland, as well as "HKMA Quality Award", "Excellent Brand of Testing & Certification Service Award" and the "Caring Company" title for five consecutive years in Hong Kong.