Panasonic Corporation announced that it will exhibit its latest 4K products and technologies, as well as innovative 4K solutions for business with these 4K technologies at their core, at the 2014 International CES, the world's largest consumer electronics show, held from January 7 to 10, 2014 in Las Vegas, USA.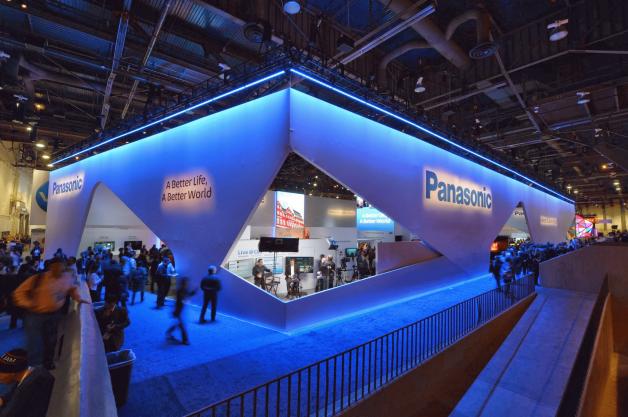 The 1,600-square-meter unified booth is open at both ends and strategically laid out. (LEDinside/Panasonic)
Panasonic has led the industry with its numerous 4K products and the company intends to provide new value to a diverse range of customers by utilizing the high volume of information made possible by 4K high resolution, as well as the ultra-realistic images, which are the strengths of 4K technology. Panasonic's 4K exhibit is based on this core concept, offering both individual consumers and business customers 4K solutions, from in-store displays to security, for diverse sectors and industries.
4K Solutions for Business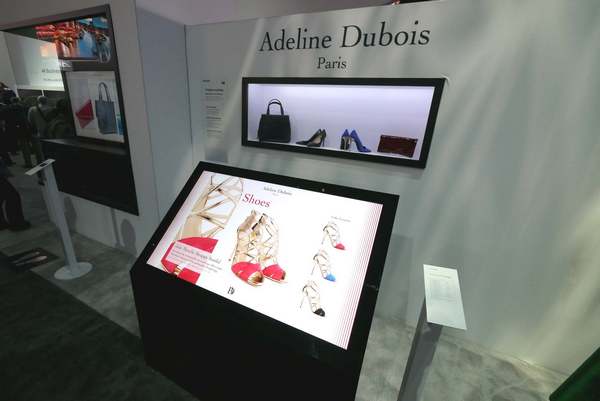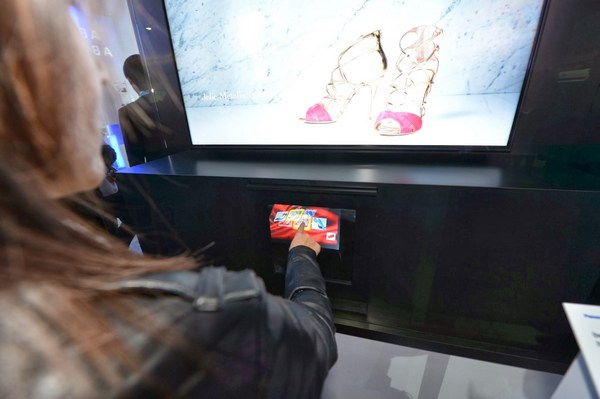 Top: A woman demonstrating Panasonic's 4K luxury catalog display at CES 2014. Bottom: A woman looks at a pair of gold high heels that is projected onto Panasonic's 4K show window signage.(LEDinside/Panasonic)
4K Signage
Panasonic will present the following three applications for shop signage for high-class brand stores etc., which will allow customers visiting the store to enjoy a completely new shopping experience.
(1) Signage where product images shown on a 4K display inside the show window can be selected by touching an operating screen generated in mid-air outside the store*1
(2) 4K digital catalogues using a high contrast IPS LCD panel for commercial use to present the texture of the material in high quality
(3) Signage which links two 65-inch 4K displays vertically and reads the RF tags of the selected products, allowing the user to see how the products look when worn.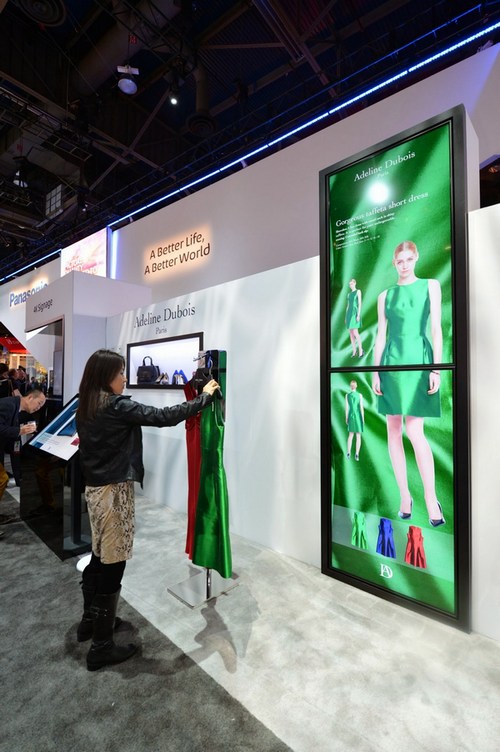 Large-screen interactive 4K viewing works when customers pick up an item tagged with an RFID, it then instantly displays on stacked set of two vertical screens. At nearly three meters tall customers can see what it could look like to wear the items they picked up.(LEDinside/Panasonic)
4K Ultra-Wide
Panasonic will introduce an application linking four 4K images with no connecting line through Panasonic's proprietary technology to display ultra-wide video in 12K x 2K with three 4K monitors. The advantage of being able to view the full ultra-wide image in high picture quality is expected to be put to use in sports analysis, in advanced security surveillance, and a variety of other fields.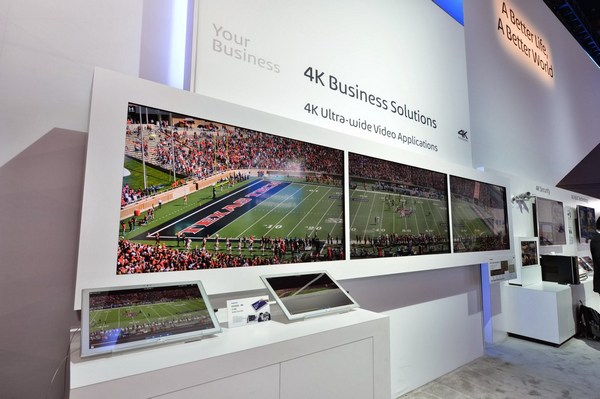 Large-screen interactive 4K viewing. At the booth you can see a demonstration of a 4K Ultra-Wide Video Application where images from four 4K cameras are stitched together for a panoramic view of an American Football game being analyzed. The image is seamless; even the tiny players are visible in crisp clear quality. (LEDinside/Panasonic)
4K Events/Projector
A prototype 4K-compatible projector will be on display. This prototype projector uses industry-first technology to shift pixels two-dimensionally in both horizontal and vertical directions, quadrupling the pixel density and projecting beautifully crisp 4K video signals offering solutions for events.
20-inch 4K Tablet (Performance Model)
Panasonic has added a high specification performance model of its 20-inch 4K tablet announced at IFA in September 2013. The performance model contains an Intel Core i7 vPro CPU, and will enable the easy handling of 3D CAD and other types of data.
4K Products for Consumers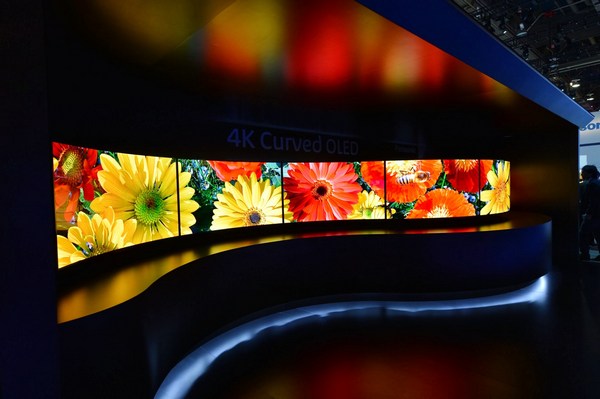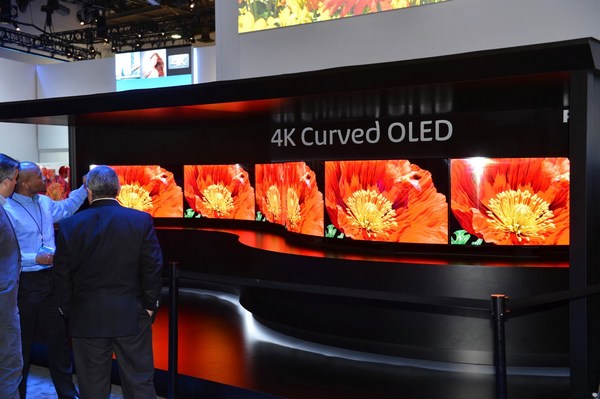 Panasonic's 4K Curved OLED HD TV. (LEDinside/Panasonic)
4K Ultra HD TV
The new "Life+ Screen" AX800 series, a new 4K Ultra HD TV (for the US market) offering overwhelmingly high picture quality along with next generation smart functions, will be on display. The new advanced personalization functions of the AX800 series, such as "my Stream", allowing the user to seamlessly link and display a variety of content according to their tastes, and "Info Bar", a self-starting information display, will be introduced.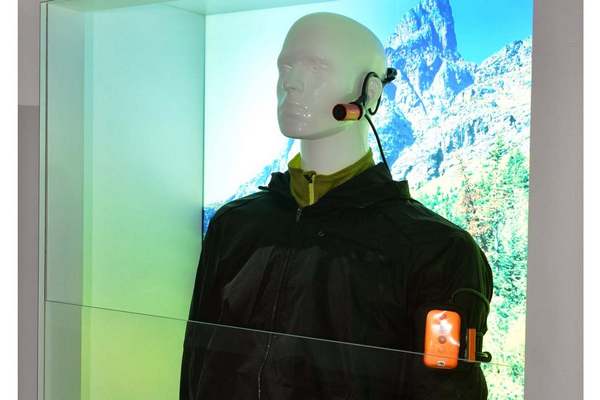 Panasonic's hands-free wearable camera. (LEDinside/Panasonic)
4K Wearable Cameras/4K Digital Cameras
A 4K wearable camera, able to be used hands-free for sports or in everyday life, allowing users to relive their experiences in even greater realism is currently under development, and demonstrations will be held at the booth. In addition, Panasonic is developing a digital single lens mirrorless camera compatible with 4K video.
4K Technologies
4K OLED Panels
Linked curved 4K OLED panels which have been created with Panasonic's own RGB all-printing method of production display videos with a greater impact and sense of immersion.
4K HEVC Technology
Panasonic is developing a video codec enabling equal or better picture quality compared to standard encoders at 1/20th the processing time, while still being compliant with the HEVC international standard specifications expected for 4K video transmission. A demonstration of this will be carried out at the Panasonic booth*2. As one of the core technologies of 4K video transmission, HEVC technology can increase the value of 4K video by improving the connectivity of devices and the convenience of sharing content between devices. In the future, Panasonic will expand this HEVC technology and enable high quality video transmission even on low speed communications lines.
Panasonic will continue to contribute to the realization of a safer, more secure, and more convenient society and customer lifestyles through its 4K product solutions
Source:
http://www.ledinside.com/node/19316