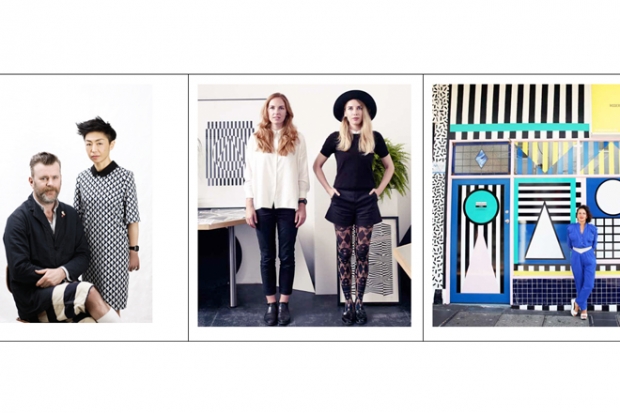 Italian furniture manufacturer Natuzzi is collaborating with three leading UK pattern designers to customise its iconic Re-vive performance recliner for the London Design Festival.
Eley Kishimoto, Patternity and Camille Walala are creating distinctive new interpretations of Re-vive for display in Natuzzi Italia's Tottenham Court Road flagship store in central London, from 17-25th September. All three designers have been encouraged to draw inspiration from Natuzzi's brand pillar concept of harmonious living, and its core brand visual codes, which include natural and traditional elements found in its native region of Apulia -sun, olive trees and leaves, through to hand-crafted lace and Classical decorative architectural motifs. Another reference point was design of Re-vive itself, which reclines without a lever mechanism by responding to the weight of the body.
Each designer will create two customised recliners by working directly onto Re-vive's white quilted leather cover using paint, vinyl, applied materials, spray or whichever media they feel is appropriate. One recliner will be made in advance and displayed in the main store window throughout the London Design Festival week. The other will be created as a 'live chair', devised for a launch event on 19th September, where the designers will engage with the audience as they work. The completed customised recliners will be displayed within the showroom along with an interactive element ideated by each designer, and will be available for the public to try and test during London Design Week.
Patternity's design takes inspiration from the roots of the olive tree - from this starting point, the designers have reinterpreted the intertwined roots in to a flowing sign, echoing a marble pattern. Highlighting the qualities of the material and its natural beauty and elegant balance, a marble pattern will be created specifically for the Re-vive, and applied to the surface of the chair to spectacular effect.
Eley Kishimoto is creating a bespoke graphic pattern for Natuzzi taking reference from the DNA of the brand and essence of the Re-vive chair, in their trademark bold graphics. During the live evening they have invited contemporary cellist Abi Wade who will create a sonic performance, taking inspiration from the creation process of the pattern and production of the Re-vive X Eley Kishimoto chair. The pattern, chair, cello, cellist and sound will be all be dressed in the same pattern and embody the harmonious living concept at the core of Re-vive.
Starting from the sun and olive tree symbols close to her Mediterranean roots, Camille Walala is applying a unique pattern on the Re-vive using vinyl stencils to create a characteristically bold and dynamic design, conveying energy and vitality.
Pasquale Junior Natuzzi, communication and deputy creative director of Natuzzi, says:"We are delighted to collaborate with three of the best visual and creative minds working in the UK at the moment to celebrate the Natuzzi Re-vive during the London Design Festival. Energy is something we care about at Natuzzi Italia, and the new Re-vive will be a joyous and vibrant homage to it."
Designed by New Zealand furniture company Formway Design Studio, Re-vive was launched two years ago and is one of Natuzzi's best-selling products internationally. Re-vive is a blend of heritage and innovation.
Source:
http://www.furniturenews.net/news/articles/2016/08/553927507-natuzzi-collaborates-leading-uk-pattern-designers-during-london