Austria, July 6 -- Mr. Liu Zhenya, Chairman of the Global Energy Interconnection Development and Cooperation Organization (GEIDCO) and the China Electricity Council (CEC) met with Mr. Li Yong, Director General of the United Nations Industrial Development Organization (UNIDO) to hold in-depth discussion on the development of Global Energy Interconnection (GEI) and cooperation in international projects in Vienna, Austria. Both sides agreed to enhance consensus and carry out pragmatic cooperation to contribute to human society's sustainable development.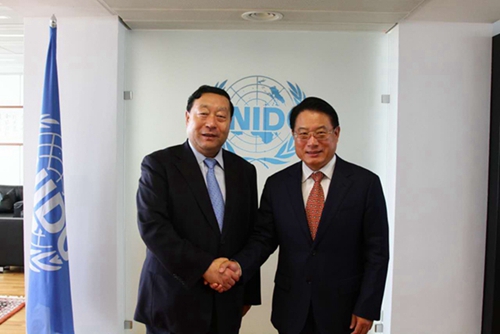 After introducing the concept of GEI, Mr. Liu Zhenya referred to a keynote speech by Chinese President Xi Jinping on "Towards Win-win Partnership for Sustainable Development" at the UN Sustainable Development Summit in the United Nations Headquarters in New York on Sept. 26, 2015, proposing discussion on establishing global energy interconnection to facilitate efforts to meet the global power demand with clean and green alternatives, which received strong echoes from the international society. Therefore, Liu called for sped-up construction of GEI to solve the three major problems of resource constraints, environmental pollution and climate change that world energy development faces. He said China's innovative development and success in application in the UHV AC/DC transmission technology laid a solid foundation for further practices and development in GEI. Since GEI was in line with the common interest of all mankind, he hoped UNIDO could play an important role to support and propel GEI's innovative development.
Mr. Li Yong spoke highly of China's endeavor and contribution in UHV transmission, GEI and clean energy promotion. He believed it was inevitable to replace fossil energy with clean alternatives. According to him, GEI provides a pragmatic solution to ensure energy security, preserve ecological environment, cope with climate change and realize human society's common and sustainable development. Since UNIDO aims to promote the economic development and industrialization in developing countries, he agreed that GEI conformed to the green development advocated by UNIDO as GEI facilitates clean energy development, promotes global energy reform, and helps the socio-economic development in Africa and Asia. Li expressed UNIDO would like to enhance GEI development in various ways.
UNIDO is a multilateral technical assistance agency of the United Nations that promotes and accelerates the industrialization in developing countries and coordinates the UN's activities in industrial development. Its mission is to promote the economic development and industrialization process in developing countries and economies in transition by technological assistance and industrial cooperation.
Source:
http://www.sgcc.com.cn/ywlm/mediacenter/corporatenews/07/334504.shtml