Skagerak's new Hven series consisting of armchairs and tables was designed to make you invite your family and friends over a little more often. Build with high comfort, a light and simple expression and from FSC-certified wood, Hven is a long-term minded series with regard to aesthetics, functionality and environment.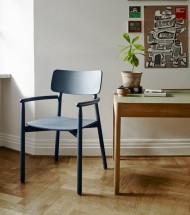 The Hven Series designed by Anton Bjorsing creates strong ties between Sweden and Denmark and manages to bring people closer together. One might not think about it, but their settings at home are of great importance in how people engage in social activities. For Ditte Buus Nielsen, Design Director at Skagerak, this is an important aspect to consider when developing new designs.
Nielsen shares, "When you invite your friends over for dinner for example, you want to make sure they sit comfortably, that there is enough space for everyone, and that your house seems welcoming. The new Hven Series ensures all these things."
The series consists of armchairs in three colours – one in untreated oak and two in coloured ash – and tables of solid oak in two lengths. In terms of design, Hven tells an impressive story of a minimalistic expression that balances quality, comfort and aesthetics very well.
The armchairs carry a light expression – cut to the bone and highlighted by few subtle details such as the overlapping poles that forms the armrests and open up the space of the chair. The tables have soft, rounded edges with table tops from a piece of solid oak – easy to maintain and possible to grind down several times, which gives a remarkable durability.
All the wood comes from FSC-certified forests, in which no more trees are cut down than the forest can reproduce, and where biodiversity and local communities are protected as well.
Thus, with its simple Nordic looks, its high comfort and long durability, the Hven Series does really have what it takes to facilitate memorable evenings with friends and family.
Source:
http://www.furniture-magazine.com/news/article/skagerak-presents-new-hven-series/