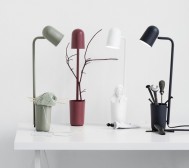 Danish brand Northern Lighting is proud to present 'Buddy' – a multi-functional lamp designed by Mads Sætter-Lassen. The rising young designer describes this desk lamp as "the little helper everyone needs".
In addition to lighting, Buddy is equipped with a holder for storing small items as pens, keys or loose change. Buddy has an innovative and flexible design and promise to be a fun and quirky companion.
Mads Sætter-Lassen explained, "The idea of Buddy started on my messy desktop. As many other young people living in small apartments my desktop is quite small. I thought that it would be cleaver to merge some functions to spare some space. And from that thought emerged the concept."
The multi-directional shade enables the beam to be directed towards the area where light is needed. Available in matt finishes of dark grey, off-white, light green and Marsala, Buddy suits a variety of interiors and applications.
Northern Lighting will present its latest collections at London Design Festival's designjunction. The showcase will be a part of lightjunction – a special area dedicated to the best of contemporary lighting.
Source:
http://www.furniture-magazine.com/news/article/northern-lighting-unveil-multi-functional-lamp-buddy/