The acquisition of Premier Foods' East Anglian canning business has helped to boost the sales figures growth of food and drink manufacturer Princes by 28%, according to figures filed at Companies House last week (December 12).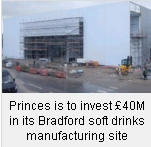 Princes is to invest 40M in its Bradford soft drinks manufacturing site
Princes filed record sales of 1.51bn for the year to March 31 2012 and generated a profit after tax of 31.1M, which is a 13% increase on the previous year's figure of 27.6M.
Premier sold its canning operations to Princes in a 182M deal in March 2011.
Princes bought two UK canning sites at Long Sutton and Wisbech in East Anglia, which employ more than 1,000 staff. They manufacture food brands such as Crosse & Blackwell, Farrow's and Smedley's.
The deal contributed to Princes' sales during the second half of 2011.
Operating profit rose 18.6% to 40.2M and sales outside the UK soared 26% to 388M.
Princes now employs more than 6,000 people and operates 14 major food and drink production sites. It predicted that annual sales would reach 2bn by the end of 2013.
40M investment
The announcement follows Princes' confirmation of a 40M investment in its Bradford soft drinks manufacturing site.
Construction work has already begun to create more than 31,000m2 of new warehouse and production facilities to increase capacity and improve efficiency at the 101,000m2 site.
The site employs more than 300 people and produces more than 400M bottles of fruit squash and carbonated soft drinks every year.
Ken Critchley, md of Princes, said: "This strategic investment ensures the site's ongoing status as one of the leading soft drink production sites in the UK. After years of careful planning and preparation, we are very pleased that construction work is now underway on this important project."
New warehouse
Old office blocks and other buildings have been demolished to make way for a new warehouse, which will house all soft drinks products produced at the site.
The main production building will be connected to the warehouse to convey products for storage and distribution without the use of vehicles, helping to support the company's environmental target to reduce road miles.
Princes is also investing in a new central syrup manufacturing facility, which will blend ingredients for the squash and carbonated drinks produced at the site, along with a discharge capture system for waste.
The project is scheduled for completion by autumn 2013.
Source:
http://www.foodmanufacture.co.uk/Business-News/Premier-Foods-acquisition-boosts-Princes-sales-to-1.51bn?nocount