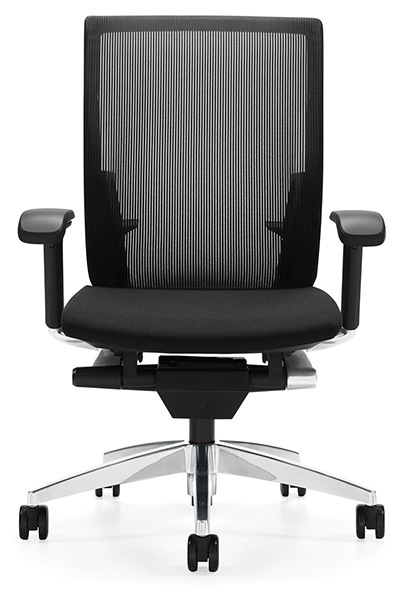 The days of having to manually adjust the height of a chair may soon be over with Global G20 High Back Synchro-tilt Mesh Chair. One of the most advanced chairs on the market, the G20's synchronized tilter automatically adjusts to a person's body weight and posture.
Ergonomically designed, the chair features adjustable seat height, tension, arm rests and features contoured cushions. Users of the chair will be able to maintain the natural S-curve vertebra of their back when performing tasks at their desk. They will also be able to maintain a straight line in their spine if they choose to recline.
These latest advances offered by Global show the rising demand for comfortable, individualized work furniture. Ergonomic furniture has continued to be a long standing factor in employee satisfaction and long term health. It's an important feature to consider when outfitting your office space.
Pricier than the average office chair (costs range anywhere from $500-$1000), employers not yet ready to upgrade to a G20 can find just as "cushy" alternatives in used office furniture sector.
When looking for an alternative, look for chairs that:
- Offer lumbar support
- Adjustable seat height
- Adjustable seat length or waterfall edge
- Adjustable arm rest height
- Adjustable arm rest length
- Ability to recline
- Supportive seat cushion
- And a strong base with wheels for mobility
Quality and adjustability are the two main components of a good office chair. Consider your price point and invest in a chair that will bring your current and future employees a lifetime of effective usage.
Source:
http://www.arnoldsofficefurniture.com/blog/office-furniture/the-automatic-adjusting-chair-globals-g20