UK - West London-based rental company Entec Sound & Light's Audio division has invested in the latest d&b V-Series line array system, adding to their already substantial hire stock of the leading German brand.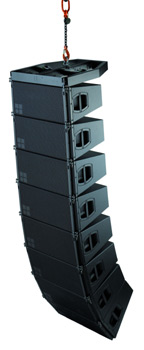 Entec's audio sales manager Peter Codron explains that the V-Series is ideal to service a wide range of Entec's medium to large shows, and it can also be used as out-shooter arrays in conjunction with the larger J-Series, due to the fabulous tonal compatibility between the two systems.
Entec's V-Series' purchase includes both V8 and V12 loudspeakers (featuring 80 and 120 degree dispersion respectively) and V-SUBs.
Two of the three-way V-Series passive cabinets can be run from a single amplifier channel, so four can be powered per D12 amp, making it an extremely cost-effective choice.
The V-sub features a cardioid arrangement, with a front facing 18 inch driver and a side exit 12 inch driver that radiates to the rear, described as "Very clever German engineering" by Codron to ensure it is very quiet behind the speaker. This is a great advantage for most set ups.
"We are really excited to add the V-Series to our hire stock," says Codron, "We have a great demand for it, and a whole diverse range of shows and events on which it will be used".
He adds that it is an excellent choice for venues like Hammersmith Apollo either on its own, or linked to a J-Series system, depending on the performance genre.
"d&b have used their Q and J series technology to produce this remarkable system. It's absolutely perfect for all types of live performances," expands Codron.
The physical size - around two thirds that of a J-Series cabinet - and light weight at 34 Kgs per cabinet - is a bit hit with crews, and helps towards economical transportation.
Source:
http://www.lsionline.co.uk/news/story/Entec%2Dinvests%2Din%2Dd%2Db%2DV%2DSeries/HZ3BRC