Bosch Packaging Technology is set to unveil its new jelly lab equipment at this year's Pack Expo International in Chicago, US, which is being held from 6 to 9 November.
The company will exhibit the testing equipment for jelly production, including medicated and functional gummies such as cough lozenges, omega-3 and mineral-enriched products, as well as other supplemented jellies.
It will showcase the laboratory depositor and drying room, which will allow jelly producers to accurately test new products, helping in accelerating the production of tested recipes to an industrial scale.
Featuring exchangeable pump system and different sizes of servo-controlled pistons, the GML03 lab depositor can process a range of product formulas to produce jellies, hard candies, toffees, and fondant.
It can also process other confectionery masses such as single, one shot, striped and striped with filling.
The drying room enables to control drying parameters, which are graphically recorded and visualised on a built-in PC for optimal quality assurance.
Bosch said the North American manufacturers can benefit from its complete system solution offerings ranging from raw material weighing and dosing to end-of-line packaging.
Bosch Packaging Technology product manager Frank Jansen said: "We see growing demand for functional and medicated jelly in the U.S. Jellies are seen by both producers and consumers as an ideal carrier for vitamins, supplements and active pharmaceutical ingredients.
"As a result, manufacturers require a constant development of new recipes and products that can be tested with minimal upfront investments, while providing accurate results."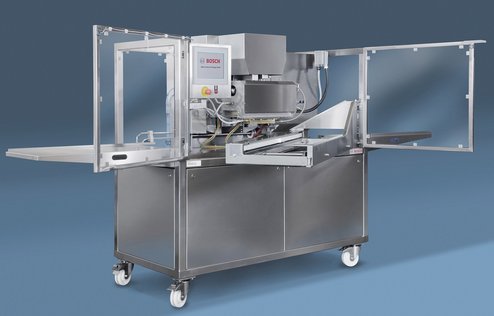 Image: Bosch's GML03 lab depositor allows manufacturers to test and develop new products. Photo: courtesy of Robert Bosch GmbH.
Source:
http://machineryandequipment.packaging-business-review.com/news/bosch-packaging-technology-to-unveil-new-jelly-lab-equipment-100816-4976126