GE Lighting is making a play for the smart home market after it hosted a panel discussion on the Internet of Things and launched a quirky television commercial for its new smart lamp in the United States.
Contrary to recent rumours that suggested parent company General Electric Co was planning to sell off its lighting division to focus on infrastructure, the company appears to be trying to reinforce the synergies between its different divisions, suggesting that infrastructure, software and lighting are converging as the digital and physical worlds come together.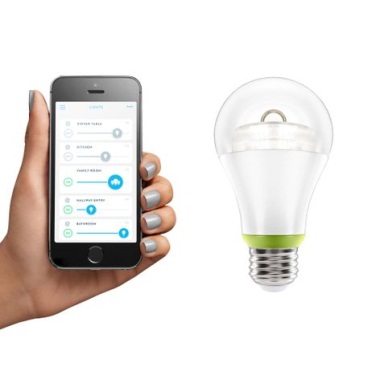 At the event, GE discussed the launch of its GE Link smart lamp, which is the first product to be created out of its partnership with crowdsourcing invention start-up Quirky. Under the terms of the partnership, Quirky's online community of inventors gained access to GE's patents and technologies so that creative people from around the world would be able to use GE's technology in the creation of their own product ideas. "We're taking on one of the most exciting categories in the world today, building things that are a whole lot smarter because of the power of the internet and the simplicity of a mobile app," an information video from Quirky declared.
The community has developed GE Link, a smart LED bulb that consumers can remotely control from anywhere in the world and sync with other connected devices. The smart lamp is enabled by the Wink app, a home automation app which enables consumers to link Wi-Fi, Bluetooth, Zigbee and Z-wave devices in the home, such as locks, blinds and air conditioning. The product is available from US retailer the Home Depot starting at under $15.
At the panel discussion, Ben Kaufman, Quirky CEO, said: "We really think lighting is the gateway drug to the connected home."
Reinforcing the idea that the partnership was with other parts of the General Electric Co business, and not just the lighting division, he said: "We are incredibly blessed at Wink to have that same team that's making sure there's an incredible amount of security on the GE industrial internet side, pounding on Wink on a regular basis to make sure that same level of security that's frankly protecting our transportation systems and our hospitals will reside in your home."
The partnership between GE and Quirky may have been complicated somewhat by GE's recent decision to sell off its consumer division but a spokesperson told the Wall Street Journal that companies "will continue to partner to grow connected devices, which will include home technologies in areas like automation, energy and lighting.
Source:
http://www.lighting.co.uk/news/latest-news/ge-connects-the-dots-with-launch-of-15-smart-lamp/8671548.article?blocktitle=Most-popular&contentID=-1