The UK government has announced to add 100 plug-in electric cars and vans to its fleet.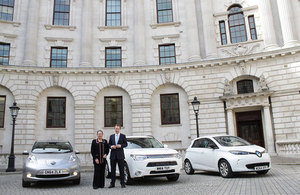 The latest addition is a part of the government's initiative to promote green transportation for which the government previously invested £5m.
Fifteen government departments and agencies, including Ministry of Defence, Foreign and Commonwealth Office, and the Home Office, will benefit from the addition of the EVs.
The fleet will include British built all-electric Nissan LEAF used for transporting staff and equipment.
UK Transport Minister Baroness Kramer said: "This is an important step. These cars will save taxpayers money on running costs and will bring low emissions benefits to our fleet.
"Today's announcement proves that Britain is leading the electric charge while supporting the growth of this important industry.
The fund announced by the UK goverment will also encourage wider use of EVs in public sector - including councils, police forces and the NHS - of plug-in vehicles and pay for charge-points.
UK Business Minister Matthew Hancock said: "We want to make the UK one of the best places in the world to design, manufacture and sell ultra-low emission vehicles. This important step demonstrates government's commitment to promoting the economic and environmental benefits of these cars.
The investment is part of a £500m package committed for ULEV vehicles last year.
Image: Green move adds electric cars to government car fleet. Photo: Courtesy of GOV.UK.
Source:
http://www.automotive-business-review.com/news/uk-government-to-add-100-evs-to-its-fleet-110315-4529798