Acura, the luxury vehicle division of Japanese automaker Honda has announced to start production of 2017 Acura NSX at its plant in Ohio, US.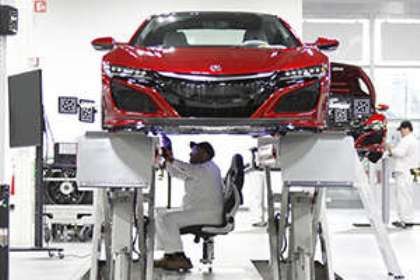 The production will begin in late April at Acura's Performance Manufacturing Center (PMC) in Marysville, Ohio and the cars will be delivered immediately thereafter.
The PMC will be the exclusive facility to manufacture the 2017 Acura NSX. At present, trial production is taking place at the facility.
Acura said that the production of the supercar will merge human craftsmanship and technological innovation with new innovations and approaches to vehicle construction, paint, assembly and quality conformation.
Acura PMC, engineering large project leader and creator of the facility, Clement D' Souza said: "All of the innovative thinking and hard work that has gone into the creation of this state-of-the-art manufacturing facility has fulfilled our goal to build a supercar in America.
"The incredible passion and challenging spirit of our highly skilled associates enabled us to develop and build a new supercar factory from the ground up simultaneously with the ground up creation of an incredible new supercar in the Acura NSX."
The PMC has been exclusively designed to produce low-volume specialty cars and to explore new and innovative ideas for next generation Acura supercars.
According to Acura, finding new and innovative methods for production of NSX has led to filing 12 patents in the US.
There are more than 100 people at the facility who are work towards body construction, painting, final assembly and quality confirmation and they work in accordance with advance robotics.
The production facility is equipped with precision robotic welding technology, in-line quality confirmation, technicians with world-class craftsmanship and hand-built engine.
Precision robotic weld technology is applied to create 100% robotic welding which ensure highly precise and repeatable welds on the body.
The precision welding is then measured by in-line quality confirmation, where each weld is visually inspected and measured by highly skilled technicians to ensure that each weld confirms to highest quality standards.
The NSX's 3.5 liter twin-tubrocharged six cylinder engine with dry sump lubrication, is hand assembled at Anna Engine plant.
Image: Acura NSX on the production line. Photo: Courtesy of Honda.
Source:
http://greenvehicles.automotive-business-review.com/news/honda-to-start-serial-production-of-2017-acura-nsx-at-ohio-plant-4842729