What happens when the singing and dancing seniors of East High graduate? For the diva-licious Sharpay Evans, the answer is one word: Broadway.

In the High School Musical spin-off Sharpay's Fabulous Adventure, the ambitious blonde played by Ashley Tisdale sets her sights on the big city and heads to New York – but not without a few suitcases and, of course, her Yorkshire terrier, Boi. The glamorous pooch steps into the spotlight wearing an all-pink, all-sparkle, custom-made dog coat that matches Sharpay's bright pink trench.

The coat, which was created by Emmy-nominated costume designer Tom McKinley, is one of McKinley's favorite pieces. "Boi's trench coat is made from the same material as Sharpay's coat and it looks so cute in miniature form," he says. Who wouldn't want one?

Well, it's your lucky day. The folks from Disney Channel and PEOPLEPets.com are giving away Boi's dog coat from Sharpay's Fabulous Adventure to one lucky winner!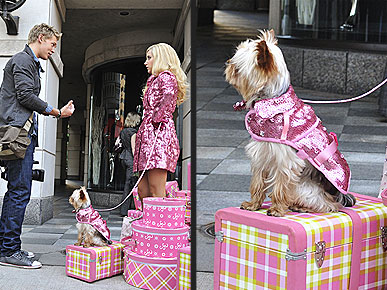 Source:
http://www.peoplepets.com/people/pets/article/0,,20496970,00.html